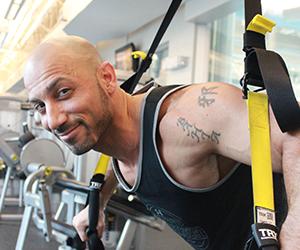 Tony Makhoul
April 2018
Tony joined the CGC in April 2011 and quickly became a dedicated member within the CGC community over the years. His passion for staying fit and his friendly nature are evident the moment you start to chat with him. Tony's workouts usually include lifting weights and training his core using the TRX suspension system in the Fitness Centre. He understands that to get results, you need to put in the work — a concept that not only fuels his motivation to stay healthy, but one he also uses to successfully run his businesses. Though admittedly a workaholic, Tony is also family man and committed CGC member.
"Everyone has good days, and bad days, make every day your day!"
"Halifax, Nova Scotia"
---
What do you like about the CGC?
"That it has so many options for fitness activities, such as the pool, cardio, weights, the Track, and Field House, all under one roof. "
---
What motivates you to maintain an active lifestyle/why is fitness so important to you?
"My motivation has always been seeing results. The reason most people workout is to see their body change and reach their goals. When you are able to look into the mirror and see what hard work and consistency can do - that motivates me to keep it up!"
---
What do you like to do in your spare time?
"I'm a workaholic so I love to work, running my two companies, as well as spend time with my kids and read."
---
What is your favourite workout routine/where in the CGC will we find you?
"I do mostly weight training at CGC, so you will find me in that area of the Fitness Centre. But I do mix it up during my weekly routine with core training as well using the TRX suspension system."
---
What is your favorite food or indulgence?
"A nice steak with asparagus, but for a treat I do love chicken wings."
---
What is your favourite post-workout snack?
"Post workout is usually at lunch time, so I usually have a protein shake and a salad with chicken."
---
What is your go-to workout song or what are you listening to right now?
"Favorite go-to song is "My Time" by Fabolous."
---
What is your current workout goal or accomplishment since starting at the CGC?
"To maintain my current weight and tone. I've been able to add about 6 pounds of muscle and increase my stamina since starting at CGC."
---
What was your first impression of the CGC?
"My first impression was that CGC had many more fitness options than my last gym and the staff are very knowledgeable and pleasant. "
---
What is your favorite memory of the CGC?
"Reaching certain goals that I thought were going to take a lot longer to achieve."
---
What do you wish other people knew about the CGC?
"That it has everything you need in a fitness facility at an affordable price, and that no matter your fitness goals, age, or level you feel welcomed."