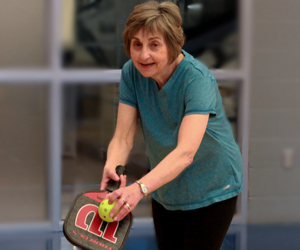 Cindy Jussup
June 2017
Meet Cindy Jussup - who will tell you that she can't pick just one favourite activity at the CGC! She enjoys walking the Track, playing pickleball or attending one of our morning classes such as Zumba, HIIT or Cardio Combat.
"Everyone is so friendly, from the staff to the members - I have made so many new friends!"
---
"Halifax"
---
What motivates you to maintain an active lifestyle?
"Fitness is important to me in order to stay healthy as well as maintain a healthy weight. Plus I enjoy it!" 
---
What do you like do to in your spare time? 
"I love to spend time with my family, read, camping in the valley and volunteering at my church." 
---
What is your favourite post-workout snack? 
"Bananas or frozen yogurt."
---
What is your favourite movie/book/TV show?
"Movie - Mrs. Doubtfire, Book - The Help, TV Show - Blue Bloods."
---
What is your go-to workout song or what are you listening to right now?
"Timber by Pitbull. I sing it all the time plus it's a great Zumba dance song!"
---
What's your favourite quote?
"Choose the behaviour, choose the consequences."
---
What is your current workout goal or accomplishment since starting at the CGC?
"To tone. I have noticed a significant difference."
---
Thank you Cindy for sharing your love of the CGC with us!