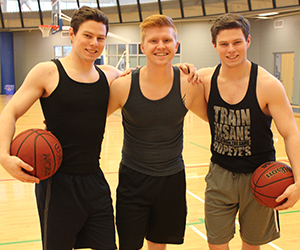 Daniel Quick, Brian Quick & Bruce Beeler
February 2018
You may have seen this trio swiping through the gates with motorcycle helmets in hand and smiles on their faces. Twin brothers Daniel and Brian Quick and roommate Bruce Beeler are habitual about their fitness and always motivating each other. This team dynamic ensures their workouts stay interesting and fun. Dividing most of their workout time between the Field House and Fitness Centre, Daniel, Brian and Bruce mix in a variety of activities. After spending even a few minutes with them in the Field House while they play a game of BUMP (classic basketball shooting game), it's hard not to want to join in. Their energy and attitudes are incredibly infectious!
---
"All three of us were born and raised in Halifax, Nova Scotia!"
---
What do you like about the CGC?
"Its location, variety of activities (gym, track, pool), and affordability."
---
What motivates you to maintain an active lifestyle/why is fitness so important to you?
"Fitness is important to us because we believe it is key to maintaining our health both physically and mentally. We motivate each other as a team every day to keep up our active lifestyle."
---
What do you like to do in your spare time?
"We love taking our motorcycles out for rides whenever we can, but equally enjoy staying at home to play video games or watch Marvel movies."
---
What is your favourite workout routine/where in the CGC will we find you?
"We will always be found either in the Fitness Centre lifting weights or in the Field House playing basketball for our cardio."
---
What is your favorite food or indulgence?
"Bruce will always enjoy a good burger, while Brian and Daniel have an undying love for pasta."
---
What is your favourite post-workout snack?
"Protein shakes and eggs."
---
What is your favourite movie/book/TV show?
"Lord of the Rings and Harry Potter."
---
What is your go-to workout song or what are you listening to right now?
"Whatever radio station the CGC is playing in the Fitness Centre, but our favourites are Ed Sheeran and Shawn Mendes."
---
What is your favorite quote?
"Sometimes it's the very people who no one imagines anything of who do the things no one can imagine." – Christopher Morcom, The Imitation Game
---
What is your current workout goal or accomplishment since starting at the CGC?
"Since starting at the CGC, we've achieved a balanced and healthy lifestyle and have continuing goals to increase both our body definition and overall strength."
---
Thank you Daniel, Brian and Bruce for your energy and commitment to staying healthy!