2022-2023 Annual Report
This was a year of moving forward and revival for the CGC, our programs and activities. We enjoyed being active and social with the community, friends, and families again as we continued to recover from the last couple of years. Despite ongoing challenges, pandemic impacts, and staffing shortages, the CGC staff, members, and guests alike persevered. This report highlights how together we reconnected over healthy active living and brought life and movement back to the facility.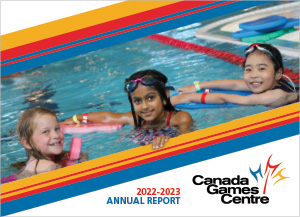 2021-2022 Annual Report
When faced with another challenging year amid pandemic closures and ever-changing restrictions, we drew strength from the resiliency of our community and our commitment to healthy active living. We found ways to safely maximize activity to support physical and mental health at a time when it was most needed. Thank you to all our members, guests and program participants who stuck with us through the year. You continue to inspire us each and every day!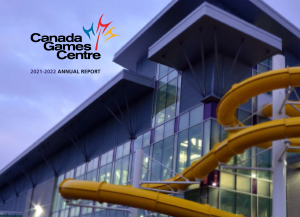 2020-2021 Annual Report
We're thankful for the members, guests, volunteer Board and staff who have helped make the Canada Games Centre a part of their lives over the past ten years. Our 2020-2021 Annual Report looks back at some great moments and highlights how we stayed active together, even when apart last year. With a focus on the safety of our community and staff, we celebrated a return to in-person activities and bringing back the vibrant CGC energy we missed! Together, we inspire healthy active living.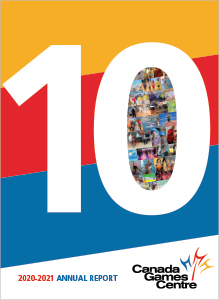 2019-2020 Annual Report
Throughout 2019-2020, our community has shared goals and stories, celebrated many successes, and infused the facility with good vibes and positive energy. We are excited to share the following report highlighting this year's collaborative efforts of CGC members, visitors, community partners, volunteer Board of Directors and staff who inspire us every day with healthy, active living.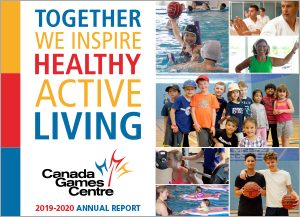 2018-2019 Annual Report
CGC members, visitors, community partners, volunteer Board of Directors, and staff, have been busy working together this past year to form healthy habits and create innovative programming. We're proud to present the following report highlighting the collective efforts and accomplishments of our active community.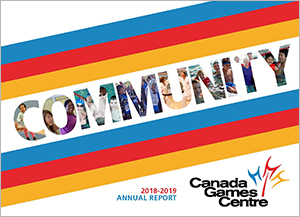 2017-2018 Annual Report
As we look back at another great year, we take a moment to highlight the many moving pieces and inspiring individuals behind the CGC community, the energy you feel when you walk in the building, and the overall success of the facility.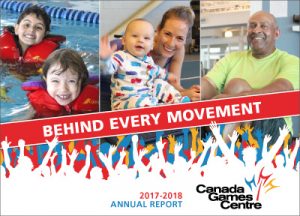 2016-2017 Annual Report
In our sixth year of operation, our commitment to the community continues to grow deeper. We are excited to share our year of accomplishments, new community partnerships, events and healthy active living with you!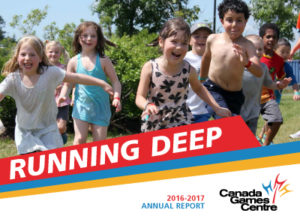 2015-2016 Annual Report
This year, we celebrated our fifth successful year in operation and hosted a fifth birthday party with members, friends, staff and our community. Thank you to everyone who has helped us make the CGC what it is today!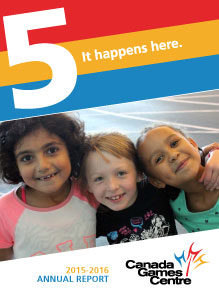 2014-2015 Annual Report
As we set out in 2014-2015 and our forth year in operation, we wanted to continue to build a healthy community and share the stories of inspiration from our members, partners, visitors and staff. With your help, we have accomplished so much over the past year and would like to share those achievements with you.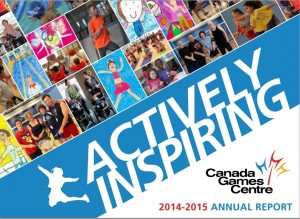 2013-2014 Annual Report
In 2013-2014 we wrapped up our third year of operation with continued success. Building on what we learned to date, the Canada Games Centre is poised to move forward. Our success stems from you and we are committed to exceeding your expectations.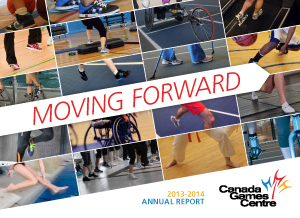 2012-2013 Annual Report
We're pleased to present this year's report titled "Strength in Numbers". It's appropriately named this because it pays tribute to the continued success we are receiving, with much thanks to YOU. Have a read and watch the videos that celebrate the past year.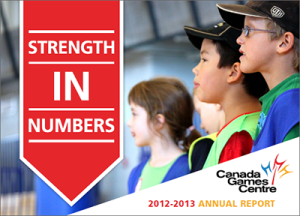 2011-2012 Annual Report
It's been a busy first year of operations, packed with many milestones and successes. We're on track for a fantastic second year. View our first-ever Annual Report.