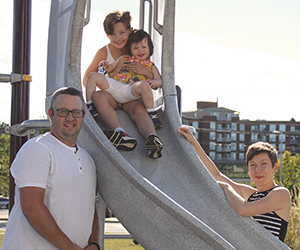 Erinn, Glen, Sophie & Lilah
August 2020
Meet Erinn, Glen, Sophie and Lilah! They are one active family often seen around the CGC. The girls, says Erinn, are balls of energy and having an active lifestyle helps her and Glen keep up with them! Each family member has their favourite activity to do; even if their interests don't always line up, they can all agree that an active lifestyle is a big part of having fun, appreciating their health and striking a better life balance.
"The goal is to be happy, healthy people."
"We are both from Halifax."
---
What do you like about the CGC?
"The CGC offers a variety of engaging fitness options and is a place of social engagement. The CGC suits our family: Sophie has enjoyed children's fitness programming and summer camps. Lilah was only a few months old when she and mom attended Stroller Circuit! Glen prefers independent Fitness Centre workouts, whereas I (Erinn) enjoy the energy and social atmosphere of fitness classes."
---
What motivates you to maintain and active lifestyle/why is fitness so important to you?
"As adults, we need to maintain the health that we are fortunate to have. An active lifestyle helps to balance the more sedentary natures of our occupations. The children have an abundance of energy and are naturally attracted to exercise as a form of fun and self-expression. Fitness is an essential component of a well-balanced life."
---
What do you like to do in your spare time?
"We can often be found at a playground when the weather is agreeable. Attending the CGC (and staying active in general) factors high on the list of activities that we like to do."
---
What is your favourite workout routine/where in the CGC will we find you?
"Glen prefers to listen to a podcast while in the Fitness Centre. I head in the opposite direction for Dance Fusion or Cardio Combat on the Field House floor. As a family, we have enjoyed the Leisure Pool as well as the Track, as they are age-indiscriminate."
---
What is your favourite food or indulgence?
"We can always all agree upon pizza."
---
What is your favorite post-workout snack?
"The humble banana. It is low-maintenance and requires no preparation."
---
What is your go-to workout song or what are you listening to right now ?
"I appreciate that the Fitness Instructor chooses the music! I can turn off my brain, work hard and enjoy. For Glen, it is a sports podcast. Sophie is into pop music and Lilah prefers nursery rhymes!"
---
What is your current workout goal or proudest accomplishment since starting at the CGC?
"Exercise helps us all to strike a better balance with our sleep patterns, moods, energy levels, and allows us to appreciate the physical abilities and bodies that we have. The goal is to be happy, healthy people."
---
What was your first impression of the CGC?
"A fitness centre that is engaging and modern! Instructors who are peers and role models! The facility is truly succeeding in incorporating all members of the family, no matter what the age of the individual."
---
What is your favourite memory of the CGC?
"Zumbathon fundraisers are very fond memories. More currently, however, we all appreciate access to the facility after the COVID closure. It has allowed us to burn off some of our stress and feel 'more like ourselves'."
---
What do you wish other people knew about the CGC?
"Just about anyone could hit their stride at the CGC. It becomes part of your being."