Press Play | Facility Reopening Update
As always, the health and safety of our members, users and staff is our first priority. To support this priority during the COVID-19 pandemic, additional measures and changes in services are required. Our reopening plan follows the current advice of Public Health experts, mandated legislation and takes into consideration best practices from similar facilities and sports organizations in Canada and internationally.
Press Play | Stage 3 Began August 31st, 2020: Press Play Stage 3 Details
---
phys·i·cal lit·er·a·cy noun : Physical literacy is the motivation, confidence, physical competence, knowledge and understanding to value and take responsibility for engagement in physical activities for life.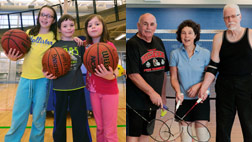 At the Canada Games Centre, we strive to provide the best programs and services possible to improve physical literacy for all – from the very young to the young at heart.
Following the Sport for Life (S4L)'s guidelines for physical literacy, we continue to add and improve programming every season.