phys·i·cal lit·er·a·cy noun : Physical literacy is the motivation, confidence, physical competence, knowledge and understanding to value and take responsibility for engagement in physical activities for life.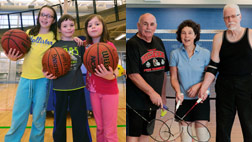 At the Canada Games Centre, we strive to provide the best programs and services possible to improve physical literacy for all – from the very young to the young at heart.
Following the Sport for Life (S4L)'s guidelines for physical literacy, we continue to add and improve programming every season.
---
Lifeguard Compact Course Added
Bronze Medallion/Cross & National Lifeguard Service (NLS)
Thursday, October 18th & Friday, October 19th and Monday, October 22nd-Saturday, October 27th
8:00am-4:00pm
Ages 16+ and able to swim 400m in 10 minutes
Free with a work commitment of 3-10 hours per week until June 2019
Online registration code 310178
Join the CGC Aquatics staff today! We are running a compact course for Bronze Medallion/Cross and National Lifeguard Service certifications in October.
Bronze Medallion/Cross are the prerequisites for all advanced training programs including National Lifeguard Service certifications. National Lifeguard training builds on the fundamental skills, knowledge, and values taught in the Lifesaving Awards of the Lifesaving Society to develop the practical skills and knowledge required by lifeguards. Recognized as the standard measurement of lifeguard performance in Canada, National Lifeguard education is designed to develop a sound understanding of lifeguarding principles, good judgment, and a mature and responsible attitude towards the role of the lifeguard. The National Lifeguard's primary role is the prevention of emergency situations, and where this fails, the timely and effective resolution of emergencies.
Questions? Reach out to Chris Hanlon, Aquatics Operations Coordinator at hanlon@canadagamescentre.ca.
Register today as space is limited. 
---
Fall 2018 Program Guide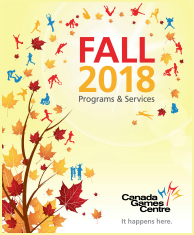 Fall Registration Dates
MEMBERS:
Online: August 7th, beginning at 8:00am
In-person: August 9th, beginning at 8:00am
NON-MEMBERS:
Online: August 14th, beginning at 8:00am
In-person: August 21st, beginning at 8:00am