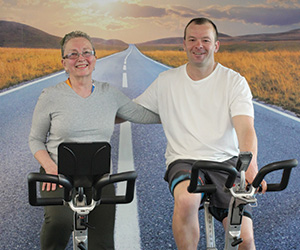 Heidi & Adam
May 2022
This month, mother and son, Heidi and Adam, happily share how they have been active at the CGC since opening day. Exercise has always been an important part of their lives – from Heidi's own childhood memories of playing field hockey to Adam's time as a high school football player and on the golf course. While taking their photo, it was easy to tell how being healthy is fun for them. They often use the CGC separately, but both share a love of swimming, are supportive of each other's goals, and always have time to say hello to staff!
"We show up, work out, refresh, and return to our workday empowered."
"Halifax, Nova Scotia"
---
What is your favourite workout routine or your current fitness goal?
"Building strength and endurance in a safe environment which promotes a healthy body, mind and spirit." Heidi – "I swim lanes, and go to the pilates fitness program."

Adam

– "Cycling, then swim laps."
---
What motivates you to be active/why is fitness important to you?
"Our goal is to live a healthy happy lifestyle. We have both rehabilitated at the CGC from mobility injury. Exercising is fun, staff are supportive and they motivate and adapt movements to help us fulfill our goals and address our health concerns. We show up, work out, refresh and return to our workday empowered."
---
What is your go-to workout song or what are you listening to right now?
 "Fitness instructors play amazing music that encourages one to rev it up or stretch it out. We enjoy all the variety of music presented."
---
What is your favourite post-workout snack?
"We enjoy protein vegetable/fruit smoothies, clementines, cheese and boiled eggs, and/or a hearty sandwich as part of a post-workout snack."
---
What is your favourite food or indulgence?
Heidi

–"Adam and I enjoy homecooked meals and indulge in poutine or loaded vegetable pizza."
---
What do you like to do in your spare time?
"We work out at the CGC! Swim lanes, cycle, use the Track and Field House, attend Aquafit and pilates, and practice self-care. We also enjoy outdoor hiking, biking on the Rails to Trails, and swimming in the ocean and lakes. Activities variety by season, but we exercise and have fun during our spare time."

Heidi

– "Cheer on grandchildren playing on soccer, basketball and volleyball teams; walk with friends on the Track, one of my friends has vision loss."
---
What is your favourite book/movie/TV show?
Heidi –"One of our recent favourites was the 2022 Masters Tournament. Where Tiger Woods participated after his major surgery. We were also cheering for the Raptors in the playoffs. One of my favourite books is Charlotte's Web, which we analyzed as part of my university curriculum in Early Childhood Education." Adam – "One of my favourite movies is the Star Wars Trilogy. I am also a golf, basketball, football and nature enthusiast, so I enjoy watching documentaries on nature, oceans and sports." 
---
What do you like about the CGC/where will we find you in the CGC?
"The CGC is a community of caring professional staff and participants who motivate one another to do their best and have fun. There are multiple choices of activities and times available. One can meet with a personal trainer or join a team. We have enjoyed family birthday parties and fun days held at the CGC. You will find us on the bikes, Track, and in the pool swimming."
---
What is your favourite memory of the CGC?
Heidi – "At an end of the season Aquafit class, our instructor organized water relay races, just for fun. Instructors make classes interesting and motivating. I pushed myself to "give it all" and won. Everyone participated to their potential and had a lot of fun!" 
---
What was your first impression of the CGC?
"We were there for opening day! A welcoming and positive staff gave us a tour. The CGC is a large multifunctional facility, very clean, with accessible spaces and changing rooms. The pools, hot tub and sauna are inviting and there's great variety of Aquafit classes."
---
What is your favourite motivational quote?
"In the middle of difficulty lies opportunity."