How to Register for Canada Games Centre Swim Academy
Annual Program Registration Information
Registration for all CGCSA programs can be done in person or online. All program fees are listed in the program guide. Please note that some of our programs have advanced registration for current participants and may be full or unavailable.
Click to view the Fall 2023 Program Guide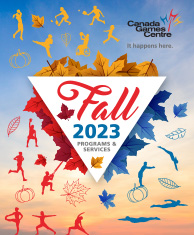 FALL 2023 REGISTRATION DATES
Members:
Online | August 8th, beginning at 8:00am
In-Person | August 10th, beginning at 8:00am
Non-Members:
Online | August 15th, beginning at 8:00am
In-Person | August 17th, beginning at 8:00am
Additional Registration Information* 
All bi-weekly payments for all Swim Academy Programs run from September-June.
All down payments for Swim Academy annual programs made before September 1st do not contribute to any membership payments prior to September 1st.
All Annual Swim Academy Programs receive a 12-month Canada Games Centre membership, active from September 1st-August 31st.
Add-on membership options are available.
CGC Memberships through the Swim Academy will not auto-renew.
Group transfers will require an appointment with the Aquatics Program Coordinator. The transferred membership will have the same contract expiry, terms and conditions as the original program agreement, but rates will be adjusted based on the new fees.
*Except Masters Swim Team
Annual Program Cancellation Policy
After program fee payment, there are no refunds. Should you change your mind about a registered program, Canada Games Centre will credit your account for the amount of the program up to 7 days before the program start date. This credit must be used towards the registration of another registered program or the initial set-up of membership dues. All changes must be completed in person at the Customer Service Desk. Any cancellations made after program start date will not receive a credit. The Canada Games Centre reserves the right to cancel any program or change session times and/or locations. Programs may be cancelled due to lack of registrants.