phys·i·cal lit·er·a·cy noun : Physical literacy is the motivation, confidence, physical competence, knowledge and understanding to value and take responsibility for engagement in physical activities for life.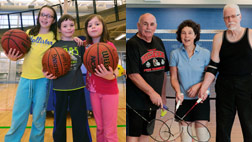 At the Canada Games Centre, we strive to provide the best programs and services possible to improve physical literacy for all – from the very young to the young at heart.
Following the Sport for Life (S4L)'s guidelines for physical literacy, we continue to add and improve programming every season.
---
Stroller Circuit – NEW SESSIONS!
August 14th-August 28th | Wednesdays, 10:30am-11:30am
August 16th-August 30th | Fridays, 10:30am-11:30am
Members $24, Non-Members $30 (plus tax)
Online registration code 230402
Location: Field House
One of our most popular classes! This safe and interactive stroller fitness program is designed for the parent who wants to get into shape without leaving their baby out of the picture. A certified Postnatal Fitness Instructor will lead you through cardio and strength workouts that can be modified to any fitness level in order to help you achieve your personal fitness goals. Progressive in nature, this is a welcoming environment for those looking to introduce themselves to fitness or for those returning to fitness postpartum. **Friday's circuit will focus on core strength, stability, and endurance to improve pelvic floor health.
---
Fall 2019 Program Guide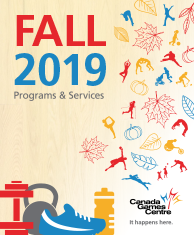 Fall Registration Dates
MEMBERS:
Online: August 6th, beginning at 8:00am
In-person: August 8th, beginning at 8:00am
NON-MEMBERS:
Online: August 13th, beginning at 8:00am
In-person: August 20th, beginning at 8:00am
Click to view the Fall 2019 Program Guide
---
2019 Summer Camps & Programs Guide
Summer Registration remains open until the second sessions begin.
Click to view the 2019 Summer Camps & Programs Guide