phys·i·cal lit·er·a·cy noun : Physical literacy is the motivation, confidence, physical competence, knowledge and understanding to value and take responsibility for engagement in physical activities for life.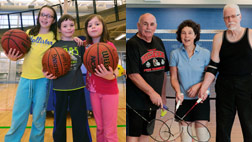 At the Canada Games Centre, we strive to provide the best programs and services possible to improve physical literacy for all – from the very young to the young at heart.
Following the Sport for Life (S4L)'s guidelines for physical literacy, we continue to add and improve programming every season.
---
Functional Pilates (Level 2+up) 
NEW PROGRAM ADDED
4 weeks | July 4th-July 30th
Tuesdays & Thursdays from 6am-7am
Members $64, Non-Members $80 (plus tax)
4 weeks | August 6th-August 29th
Tuesdays & Thursdays from 6am-7am
Members $64, Non-Members $80 (plus tax)
Online registration code 230551
Location: 2nd Floor Fitness Studio
Prerequisite: Previous Pilates experience is required (must have minimum 20 class hours or taken Pilates Level 1)
Pilates once a week is great, but two times is twice the fun! With two different classes, you'll get the variety you need to avoid overuse injuries, and the frequency to feel a noticeable difference in your body. In this early morning class, you'll be led through a short yoga-inspired sequence to stretch, wake-up, and warm the body, followed by a fun mix of pilates drills, cool-down, and stretching. On Tuesdays, endurance is the name of the game; expect a faster paced workout to keep your heart rate up, focusing on higher rep counts that have you burning by the end. A variety of standing, seated, and lying postures that move with the music, and using props and weights will challenge you. The exercises slow down a bit on Thursdays as we show you how to incorporate the use of Yoga Tune-Up therapy balls to release fascial adhesions, increase blood flow, and improve pilates technique. Thursdays will help you build strength by pushing through that shaky feeling, focusing on fewer reps and deeper, more integrated muscle recruitment patterns. Come for the burn, stay for the laughter, and let the music take you to new lengths – literally!
---
2019 Summer Camps & Programs Guide
SUMMER REGISTRATION DATES

MEMBERS
Online | March 26th, beginning at 8:00am
In-person | March 28th, beginning at 8:00am
NON-MEMBERS
Online | April 2nd, beginning at 8:00am
In-person | April 9th, beginning at 8:00am
Click to view the 2019 Summer Camps & Programs Guide