phys·i·cal lit·er·a·cy noun : Physical literacy is the motivation, confidence, physical competence, knowledge and understanding to value and take responsibility for engagement in physical activities for life.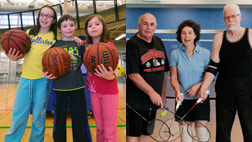 At the Canada Games Centre, we strive to provide the best programs and services possible to improve physical literacy for all – from the very young to the young at heart.
Following the Sport for Life (S4L)'s guidelines for physical literacy, we continue to add and improve programming every season.
---
Acro Yoga –
NEW DATES!
Wednesdays, 7pm-8pm
Members $10, Non-Members $12 (plus tax)
Location: 2nd Floor Fitness Studio
December 6th | Online registration code 00081078
December 13th | Online registration code 00081079
December 20th | Online registration code 00081080
January 3rd | Online registration code 00081082
January 10th | Online registration code 00081083
January 17th | Online registration code 00081081
Acro Yoga is a physical practice that combines yoga and acrobatics. It often involves two people, with one acting as the base and the other as the flyer. The base supports the flyer in various yoga poses, often lifting them off the ground. This requires strength, flexibility balance, and trust between the two partners. Acro Yoga can help to improve physical strength and flexibility, as well as communication skills and trust in a partner. It's a fun and challenging way to explore yoga and can add a new dimension to your practice. Always remember to practice Acro Yoga safely, preferably under the guidance of a trained professional.
Please note: This program is for all levels ages 16+ and we offer a welcoming space for everyone. Please note that no partner is needed for Acro Yoga.
Register today for one or all the program dates!
---
Winter 2024 Program Guide
Click to view the Winter 2024 Program Guide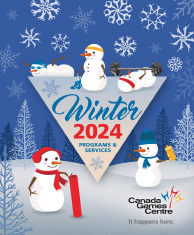 Members:
Online | November, 21st, 2023; beginning at 8:00am
In-person | November 23rd, 2023; beginning at 8:00am
Non-Members:
Online | November 28th, 2023; beginning at 8:00am
In-person | November 30th, 2023; beginning at 8:00am
---