phys·i·cal lit·er·a·cy noun : Physical literacy is the motivation, confidence, physical competence, knowledge and understanding to value and take responsibility for engagement in physical activities for life.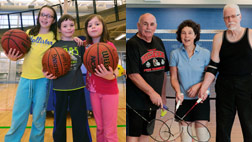 At the Canada Games Centre, we strive to provide the best programs and services possible to improve physical literacy for all – from the very young to the young at heart.
Following the Sport for Life (S4L)'s guidelines for physical literacy, we continue to add and improve programming every season.
---
SwingFit Workshops Added
Saturdays – October 6th, 13th or 20th | Ages 14+
2:30pm-4pm
Members/Non-Members $20 per workshop
Online registration code 330200
Location: Dance Studio
CGC presents SwingFit Workshops! Join Toby and Yin Yu as they introduce the energetic sounds and moves of the Swing era. Appreciate the history and sound of original 1920's Jazz music. Find your dancing pulse, learn to rock the rock step and show off with some smooth moves all in this afternoon workshop. No experience necessary! Toby and Yin Tu will help you hear the music and find your rhythm. Prefer to solo dance? It's OK! Come learn some solo jazz moves and our Charleston Cardio! This swing inspired aerobics class is sure to bring the sweat.
---
Fall 2018 Program Guide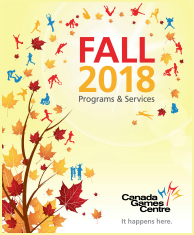 Fall Registration Dates
MEMBERS:
Online: August 7th, beginning at 8:00am
In-person: August 9th, beginning at 8:00am
NON-MEMBERS:
Online: August 14th, beginning at 8:00am
In-person: August 21st, beginning at 8:00am
Click to view the FALL 2018 Program Guide