As always, the health and safety of our members, users and staff is our first priority. To support this priority during the COVID-19 pandemic, additional measures and changes in services are required. Our reopening plan follows the current advice of Public Health experts, mandated legislation and takes into consideration best practices from similar facilities and sports organizations in Canada and internationally.
Please see our Facility Reopening section for more details and list of available activities and amenities.
---
When it comes to an active lifestyle, there is more to be gained than lost.
Expand your physical activities, get your heart pumping, breathe easier, and feel good about yourself with a membership at our multi-sport facility – where everything you need to get fit and stay healthy is under one roof.
Swim, dive, and float your way around our Aquatic Centre (3 pools, Hot Tub, Dry Sauna, Water Slides & Play Features)
Stay motivated with a large variety of specialized weight training and cardio equipment in our Fitness Centre (ages 14+)
Hone your skills or play for fun in our Field House (Basketball, Volleyball, Badminton, Table Tennis & Pickleball)
Stretch your legs on our 6-lane, 200m indoor Track (Strollers & Nordic Poles welcome!)
Choose from over 75 Drop-in Fitness Classes a week, including Yoga, Zumba, Spin, Aquafit and more
Worry-free automatic renewal
Day-use lockers (just bring your lock)
Free on-site parking
Balls, racquets, birdies & Nordic Poles free to rent
Outdoor physical literacy playground
And there's more. Membership Exclusives include:
Bi-weekly payment plans available
Free Simply Fit Fitness Centre Orientation
Advanced registration & special pricing for programs including swim lessons*
Discounts on Personal Training*
Member Only Swims
Advanced Badminton court bookings
Ability to freeze your membership for a maximum of 3 months*
Complimentary Child Minding*
*Annual members only, some conditions may apply
---
Member Profile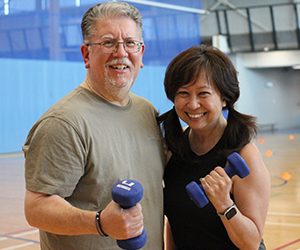 Spiro & Gen Photopoulos
July 2021's member profile features Spiro & Gen, CGC members since 2011 shortly after the doors opened to the community. They joined together as a family with their three kids and made exercise a part of the family routine. The kids are grown up now, but Spiro & Gen remain active and regular members at the CGC – attending classes multiple days a week. Gen doesn't miss the morning Dance Fusion classes, and raves about all the fun they have dancing! Together, Spiro & Gen are back in the evenings for the HIIT or Cardio Combat classes with their sense of humour and upbeat energy in tow.
"We are motivated by knowing that exercise not only relieves stress, but also strengthens your muscles and makes you stronger…"
Read More »