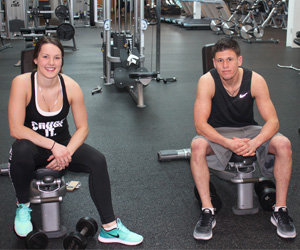 Kaylee Davies & Kean Osmond
February 2017
Meet local Dartmouth couple and CGC members since last year - Kaylee Davies & Kean Osmond. Despite the snowy weather this week, they both made it in for their regular workouts. We wanted to know what helps keep them motivated.
"We both love everything about the CGC, but if we had to pick one thing, it would be the community atmosphere and the amazing upbeat staff that make every moment of every visit an enjoyable one."
---
"Results are the biggest motivator for us! When you see all of your hard work paying off, it makes us want to work that much harder to reach our goals. As long as we're doing better today than we did yesterday we're winning. Our fitness goal is to live an active and healthy lifestyle. Kean is staying lean and cut in preparation for his upcoming Mixed Martial Arts (MMA) fight."
---
What's your favourite workout?
"Our favourite work out is definitely Bi's/Tri's and abs. A total arm blast finishing off with a good core work out. But you can find us in many different areas around the CGC. We love the variety of activities, whether it's in the pool area, basketball, running/walking or pumping iron in the Fitness Centre." 
---
What's your favourite post workout snack/meal?
"Post workout, you can find us enjoying mixed berries with plain yogurt and a handful of natural almonds with one scoop of protein powder mixed with chocolate milk." 
---
What do you like to do in your spare time?
Kaylee
- "Figure skating and cheerleading." Kean - "Basketball, hockey and MMA." 
---
Thanks Kaylee and Kean for staying active with us!