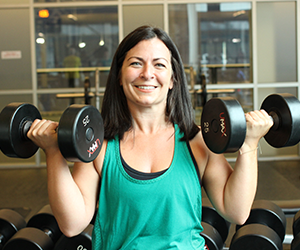 Lauren Cormier
August 2018
Three years ago, Lauren Cormier made the decision to become a member of the CGC not only for herself, but also to inspire her chiropractic clients. This talk-the-talk, walk-the-walk mentality over the years has taken Lauren from out of shape to earning a silver medal at the 2018 Nova Scotia & New Brunswick Powerlifting Provincials and qualifying for Eastern Canadians. She also managed to do all of this while starting a new business. Despite Lauren's jam-packed daily schedule, she always makes time for her lunchtime workouts, knowing the importance of keeping a strong body and mind.
"You only get one body and I want mine to last as long as it can."
"Chéticamp, Nova Scotia."
---
What do you like about the CGC?
"Friendliness of staff, great hours of operation and classes (lots of choices and lots of different times available)"
---
Why is fitness important to you?
"You only get one body and I want mine to last as long as it can. I decided that as a chiropractor I should 'walk the walk' and not just 'talk the talk' if I expect to inspire my patients to be healthier people. Three years ago when I joined the CGC, I hadn't been to a gym in over ten years. I was completely out of shape. I woke up one morning and decided it was time to change things. Three years later, I'm down two dress sizes and competitively power lifting. I sleep better and my very physical job is much easier on my body. I expected that getting stronger and fitter I would feel better physically, but what I didn't expect was just how much better mentally I would be. Better focus, easier ability to 'turn off' or meditate and most of all, more confidence. Strong body, strong mind."
---
What do you like to do in your spare time?
"Running my brand new business, The Chiropractic Loft, with my partner Dr. Paul Whatling. Starting a new business takes more time and energy than I think most people realize but you also have to make time to look after yourself. While doing the renovations to our new practice, I still came in at least three times per week and managed to get a silver medal at the Nova Scotia Power Lifting Provincials and qualified for Eastern Canadians."
---
What is your favourite food or indulgence?
"Thai green curry."
---
What is your go-to workout song or what are you listening to right now?
"Lion by Bakermat"
---
Where will we find you in the CGC?
"On the lifting platform, in the Sauna or at a Yoga class."
---
What is your favourite book?
"Brave New World. I think it's an increasingly poignant book that everyone should read."
---
What was your current workout goal?
"Drop down into 57kg weight class with a total lifting weight of 700lbs over the bench press, dead lift and squat, for next year's provincials."
---
What is your favorite post-workout snack?
"It's usually lunch time so a salad with tuna or eggs. I try to stay ketogenic until supper time."
---
What is your favourite quote?
""You never know how far reaching something you think, say or do today, will affect the lives of millions tomorrow." - BJ Palmer"
---
What do you wish other people knew about the CGC?
"That it's not an intimidating space. Not only are the staff friendly, but the vast majority of patrons are as well. It is a community, and while most of the time people are in their own little world doing their own thing, most people are more than happy to help if they can, be it spot you for a bench press, critique your form or offer some tips they've learned along their health journey."
Best of luck Lauren at the Eastern Powerlifting Championships! (Aug. 31 - Sept. 2, 2018)