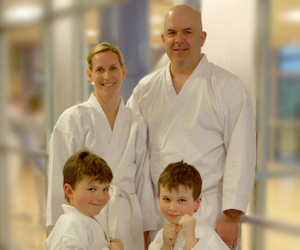 Publicover Family
April 2017
Meet the Publicover family - Trevor and Cathy with sons Gavin and Giles (l-r)! While they like to take full advantage of all areas of the Centre with friends, they are also one of our many Family Karate participants. They also enjoy the CGC's annual New Year's Eve Family Extravaganza with the boys.
"We love that there is such a wide variety of options that fit our family's lifestyle. We use all the Centre has to offer for fitness and family fun time. The staff at the CGC are always very friendly and supportive."
---
"Our kids. We want to set a healthy, active example for our kids and be able to keep up with them!"
---
What's your favourite workout?
"Our favorite workout is Family Karate as it gives us a chance to do something active together. You can find us in the Fitness Centre, Pool (the kids love the giant inflatable obstacle course!), Track and the Field House." 
---
What's your favourite post workout snack/meal?
Mom and Dad - "Protein shakes"
Gavin and Giles - "Subway" 
---
What is your current workout goal or accomplishment since starting at the CGC?
"Having the ability to stay one step ahead of our kids."
---
What do you like to do in your spare time?
"The kids enjoy baseball, soccer, curling and biking."
---
Thank you Trevor, Cathy, Gavin and Giles for being an active family with us!