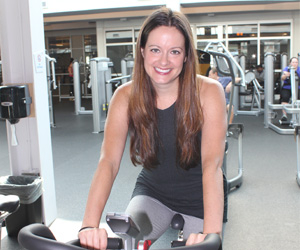 Danielle Lavigne
September 2015
Danielle was in a terrible head on collision in 2014. Admitted to the ICU fearing for her life, Danielle was having difficulty breathing, internal bleeding and possibly had hypothermia.  After sustaining a large amount of injuries, and receiving surgical procedures Danielle was not guaranteed that she would ever get back to enjoying her previous active lifestyle, let alone ever walk again normally.
"The impact of my accident caused my foot to compress therefore restricted numerous joint movements."
After three months of care in Moncton, Danielle returned to Halifax to receive physiotherapy treatments for her knee and foot. These treatments were at LifeMark here in the Centre. Danielle's pain was often borderline unbearable when she tried any kind of exercise until she stepped into the pool for a Hydrotherapy session.
"For the first time in four months I was able to place both feet firmly on the floor and take small steps with hardly any pain.  This felt so amazing and rewarding!"
The more Danielle was using the Hydrotherapy and fitness equipment, the more energy, strength and confidence she gained. Danielle still experiences pain when she walks, but she has more strength and energy. Through her determination, positivity and motivation she has been able to increase her walking speed to a light jog on the treadmill, and she has her sights set on being able to run again.
"I still have a long way to go … But I will not let my unfortunate tragedy dictate what I can and can't enjoy with my active lifestyle. I keep telling myself "my mind is stronger than my body."
Danielle you've accomplished so much, we look forward to hearing more on your recovery and hope it will continue to exceed expectations. 
Congratulations Danielle on being September's Member Profile!