Press Play | Facility Reopening Update
As always, the health and safety of our members, users and staff is our first priority. To support this priority during the COVID-19 pandemic, additional measures and changes in services are required. Our reopening plan follows the current advice of Public Health experts, mandated legislation and takes into consideration best practices from similar facilities and sports organizations in Canada and internationally.
Press Play Stage 1 and 2 Facility Reopening Details
A Note on Summer Camps
July 6th Update: We're pressing play on active summer fun with 2 weekly camps from July 20th to August 28th. In anticipation of welcoming summer campers, we are implementing a number of safety measures to ensure all members, users and campers have a safe and healthy experience at the CGC:

Summer Camps begin with small groups of 8 campers and 2 leaders 

Campers will be kept separate from other users of the facility
Campers will use a separate entrance and exit for drop-off and pick-up
Campers will be accompanied by a staff member while travelling throughout the building to ensure social distancing
Each camp will be set up in their own rooms and will use separate change rooms to access the Aquatics Centre
Click to view the 2020 Summer Camps Program Guide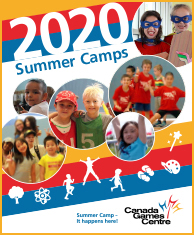 2020 SUMMER CAMP REGISTRATION DATES

MEMBERS:
Online: July 9th, beginning at 8:00am
NON-MEMBERS:
Online: July 14th, beginning at 8:00am
---
Our Field House and Track
A bright and airy environment you'll have to see to believe.
52,000 square feet of hardwood court space, along with an indoor 6-lane running track are all available to you. Two walls of floor-to-ceiling windows, and roof-facing, auto-dimming lights change the brightness of the facility with each passing cloud or ray of sun.
Space is available both for drop-in activities and rentals. See how we fit into your needs, with our membership or rental options.
Field House Features
Taking in a game on one of 3 FIBA sized basketball courts, divided with horizontal, automatic curtains

Playing a pick-up game with friends on one of 4 "Mini" Basketball Courts
Serving and spiking on 5 FIVA Sized Volleyball Courts
Rallying on 8 Badminton Courts
Floating maple hardwood floor
60-foot ceilings with up-lighting to prevent glare on courts and in eyes
Portable bleachers so your fans can take it all in!
Track Features
Work on your personal best time on our 200-metre, 6-lane indoor track
Give it your all on the Long Jump Pit (open only for rentals upon request)
A natural and synthetic rubber compound surface is engineered to increase shock absorption and reduce your muscle fatigue for a better run (or walk)