As always, the health and safety of our members, users and staff is our first priority. To support this priority during the COVID-19 pandemic, additional measures and changes in services are required. Our reopening plan follows the current advice of Public Health experts, mandated legislation and takes into consideration best practices from similar facilities and sports organizations in Canada and internationally.
Please see our Facility Reopening section for more details and list of available activities and amenities.
---
About Canada Games Centre Swim Academy
The Canada Games Centre Swim Academy (CGCSA) is a new approach to aquatic sports designed to develop the whole athlete and avoid pitfalls normally associated with over-training and early sport specialization. Each team with the CGCSA offers participants access to a variety of training opportunities, both in the water and on dry land, to help avoid injury and dropout while ultimately increasing overall enjoyment of physical activity for life.
CGCSA focuses on the following goals:
To develop lifelong fundamental movement & sport skills through exposure to different aquatic sports
To develop a deep respect for the tradition of teamwork, friendship, lifelong learning and athletic ability
To provide a safe atmosphere where youth can develop confidence, personal responsibility, positive self-image, a healthy body and an optimistic attitude towards life
To employ highly trained and qualified coaching staff who will strive to achieve program excellence
To teach the enjoyment and sense of accomplishment inherent in sport
To support and promote aquatic sport within the community, provincially and nationally
Multi-Sport Training
Year-Round Swim Team
Summer Swim Team Off-Season Training
Masters Swim Team
CGCSA & SPORT FOR LIFE
CGCSA is built on the foundation of sport research regarding child/youth sport development, physical literacy, fundamental movement skills and Long Term Athlete Development (LTAD) designed by Sport for Life (S4L) and supported by Sport Nova Scotia's Get More From Sport.
CGCSA programming supports the Active Start, Fundamentals, Learn To Train, and Active For Life stages of LTAD: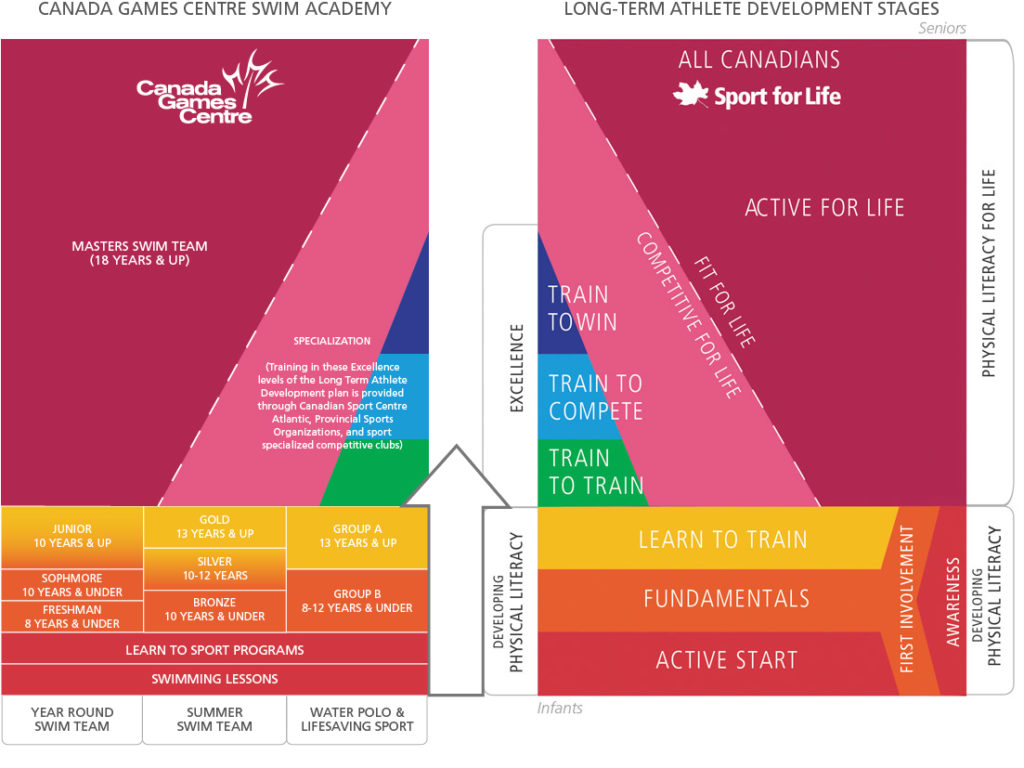 For more information on physical literacy and the stages of LTAD, visit our CGCSA Resources & Links page.
CGCSA Athlete/Parent Handbook
Download/View the 2020-2021 CGCSA Athlete/Parent Handbook