Getting started towards a healthier and stronger version of ourselves can often be the most challenging part of a commitment to a healthy active lifestyle. Maybe you are feeling confused or intimated about where to start your fitness plan? Are you unsure of your fitness level and don't know what class to attend? We want to help you pick the right class, meet new friends and know a little bit about our energetic instructors before you take their class.
With over 65 classes offered each week and more than 25 instructors, you can challenge yourself to try them all over time! Read on to learn more about our Fitness Instructors, their certifications, passions and perhaps even their fitness super powers.
---
Amber Allan, CGC Fitness & Wellness Coordinator since May 2018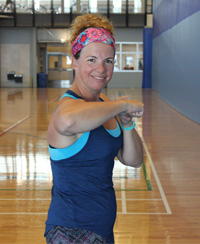 Amber Teaches:
Aqua-HIIT (Drop-In Class)
Cardio Combat (Drop-In Class)
Pumped (Drop-In Class)
Certifications:
Agatsu Kettlebell
Fitness Kickbox Canada
FIS Certified, canfitpro
PTS Certified, canfitpro Spin
Pre/Post Natal Yoga
YogaFit, Level 3
YogaFit Sweat
Zumba Certified
Fitness and healthy living are Amber's passion. She loves to help people exceed their expectations and to realize they can do more than they ever thought they could.
Fitness Super Power:
To help people discover their own superpower!
"Life is only as good as your mindset."
---
 Alison Bleeker
Alison Teaches: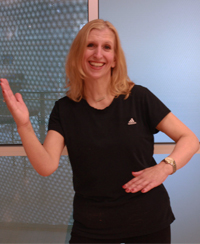 Zumba Gold (Drop-In Class)
Spin (Drop-In Class) 
Certifications:
YMCA Group Fitness (Cycling)
Resistance Training
Choreographed Group Fitness
AquaFit
YMCA Individual Conditioning Level 2 Trainer
Licensed Zumba Gold Instructor
Alison has a passion for fitness and truly feels that her participants are what motivate her everyday!
Fitness Super Power:
Humour and the ability to create enjoyment for my participants
---
Aprill Denney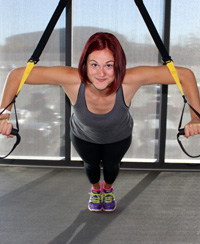 Aprill Teaches:
Introduction to TRX & Kettlebell (Registered Program)
Iron Circuit (Registered Program)
Yoga (Drop-in Class)
Certifications:
Agatsu Kettlebell Certified Instructor
Exercise Physiologist Certified, CSEP
Functional Movement Specialist
Personal Trainer Certified, Can-Fit
Yoga Teacher Certified
Aprill's passion is to help people achieve their personal goals. She is motivated by trying new things and challenging herself.
Fitness Super Power:
Ability to jump squat to infinity and beyond!
"The body achieves what the mind believes!"
---
Adèle Poirier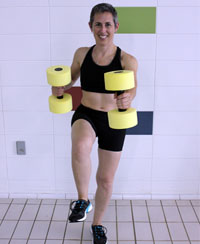 Adèle Teaches:
Shallow Aquafit (Drop-In Class)
Certifications:
Group Fitness Certification Land and Aquafit, YMCA
Personal Trainer Certification, CanFitPro
In the fitness world, what motivates Adèle is music. She loves moving to music and grew up with Highland Dancing, so choreography is one of her passions that just comes naturally to her. She always plays fun playlists during her classes, so you can always count on hearing Thriller around the Halloween months. The members in her class always say they love her music and how hard she works them.
Fitness Super Power:
Ability to give people the power to be a bit silly and let go of all their worries and responsibilities. Put a smile on their face, even if it's just for an hour!
"Fake it 'til you make it. In other words, don't be afraid to try, and keep working at it until you feel confident."
---
Amanda Swales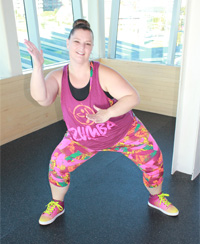 Amanda Teaches:
CGC Kids Dance (formerly Zumba Kids Drop-In Class)
Certifications:
Aqua Zumba
Zumba Basic Steps, Level 1
Zumba Kids
Zumba Jr.
Amanda's passion has always been dance, she loves the feeling when the music starts. Her motivation is to share this rewarding experience with others. Zumba has allowed Amanda to express herself on the dance floor without judgement. It never feels like a workout. Amanda is also motived by the joy and happiness the world of Zumba has given to her and the wonderful people she has been fortunate to meet along her Zumba Journey.
Fitness Super Power:
Ability to have never-ending endurance, so she could dance 24/7!
"Life is too short to sit out another dance! I have learned that we need to live life for today because we do not know what tomorrow will bring."
---
Anne Brochu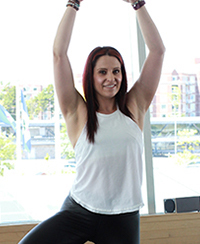 Anne Teaches:
Yoga (Drop-In Class)
Yoga Express (Drop-In Class)
Pumped (Drop-In Class)
Spin (Drop-In Class)
Certifications:
YogaFit Certification, 200 hours
Restorative Yoga Certification
Fitness Instructor Specialist Certification
Yoga Teacher Certified, 500 hours
Anne loves working with people to help them achieve their fitness goals as well as motivating them to work hard and push themselves to their limits during group exercises.
Fitness Super Power:
Super strength and speed
"Everything you want is on the other side of fear"- Jack Canfield
---
Bil & Wai Kam MacMullin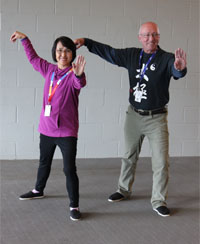 Bill & Wai Kam Teach:
Tai Chi (Drop-in)
Certifications:
Tai Chi Certified
Qi Gong Certified
Bil and Wai Kam both have a passion for studying the movements of Tai Chi and Qi Gong. They started studying Tai Chi in 1982 at beginner classes in Beijing, China. Since then they have has practiced in Taiwan, Hong Kong and China. They are motivated to lead classes that will benefit personal health and wish to share their knowledge with others.
Fitness Super Power:
Ability to have super patience!
"Breathe, relax, and enjoy your practice."
---
Candice Brown, CGC Fitness Programmer since June 2018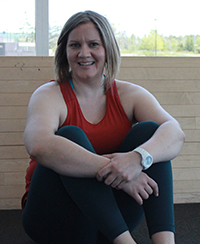 Candice Teaches:
Adaptive Yoga (Registered Program)
Self-Care & Recovery (Registered Program)
Shallow Aquafit (Drop-in Class)
Yoga (Drop-in Class)
Certifications:
CSEP-CEP
YMCA Group Ex
Yoga Alliance
Yoga Tune Up
Candice's all-time favorite motivation is music! She is passionate about keeping people moving and having fun while getting fit.
Fitness Super Power:
Reading and responding to class energy and ability levels with appropriate options for everyone.
"Schedule it. Do or do not, there is no try."
---
Carolyn Langlands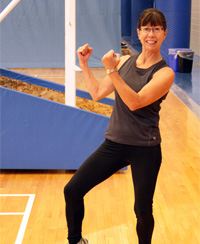 Carolyn Teaches:
Fit For Life (Drop-In Class)
Certifications:
AquaFit
Fitness Therapy
Fitness & Nutrition
Group Fitness Certified
Older Adult Fitness Certified
Carolyn is motivated by how healthy she feels at her age and by the great feedback she gets from the people in her classes.
Fitness Super Power:
Ability to super motivate others!
"The best gift you can give your family and the world is a healthy you."
---
Dennette Hanna-Shea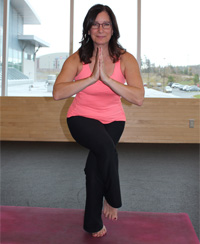 Dennette Teaches:
Athletic Step (Drop-in Class)
Core (Drop-in Class)
Yoga (Drop-In Class)
Certifications:
Fitness Instructor Certified, canfitpro
Therapeutic Approach Yoga Studio, 500 hours
Dennette has been a certified fitness instructor for 30 years. Her passion for fitness and a need for balance in her life is lead by her yoga practice. She is grateful for how seamlessly she has been able to integrate yoga into all aspects of her life and is motivated by sharing what she loves with others.
Fitness Super Power:
Ability for super authenticity. What you see, what you hear; it's all real.
"Stay in the moment and teach from the heart."
---
Erlinda Unite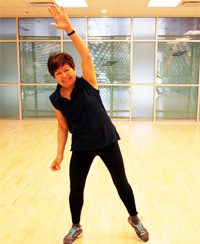 Erlinda Teaches:
Forever Strong (Drop-In Class)
Certifications:
Group Fitness Certification, NSFA
Older Adult Fitness, YMCA
YogaFit, Level 1
Erlinda is a mother, wife and grandmother and has been leading fitness classes for over 14 years. Her personal medical history is what keeps her motivated to stay active. She has a passion for following a good diet and acquiring an acceptable level of fitness. These are the two most important things you can do in shaping your health and wellness no matter what age you are.
Fitness Super Power:
Ability for super strength and endurance during exercise!
"Quality before quantity."
---
Gail Drisdelle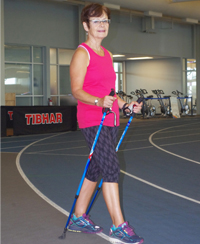 Gail Teaches:
CGC Walking Club (Drop-In Class)
Certifications:
Spin Certification
Group Fitness Certification, YMCA
Gail is a passionate and motivated instructor who loves to engage with her class and help people remain active. Her background in ballroom dance, anatomy and physiology have helped to enhance her teaching styles. During her program, she strives to help with proper movement and keeping participants informed about injury prevention. She has been a Group Fitness Instructor since 1984 and has worked at CGC since the doors opened in 2011.
Fitness Super Power:
Ability to inspire others to enjoy all forms of fitness, especially moving to great music.
"Together we can strive for greater fitness outcomes while doing something we really enjoy."
---
Jim Ross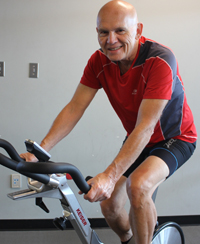 Jim Teaches:
Spin (Drop-in Class)
Certifications:
canfitpro Group fitness certification
Spin Certification
Jim has a Technical Degree in Cartography, an Undergrad Degree in Marine Geography, and a Masters Degree in Environmental Studies. His passion and motivation is getting more people on bikes.
Fitness Super Power:
No fear of hills, either going up or going down!
"He's soft and he's fat and he's wearing my clothes and he's getting too old and he was born on my birthday and I'm afraid if I stop running, he'll catch up to me."
---
Judy Reynolds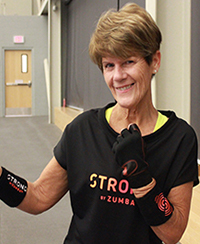 Judy Teaches:
STRONG (Drop-in Class)
Certifications:
STRONG by Zumba
canfitpro Group fitness certification
Zumba Basics 1 & 2
Aqua Zumba
Zumba Step/Zumba Kids/Zumba Gold
Level 1 Yoga
Judy has a Bachelor of Education and Masters of Education and a Bachelor of Science degree. Her passion and motivation is meeting new people who help motivate her and staying healthy.
Fitness Super Power:
To pass on good health and fitness to others.
"Live each day…it is a gift….no one knows what tomorrow may bring!"
---
Meaghan Kerman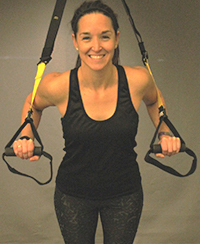 Meaghan Teaches:
Iron Circuit (Registered Class)
Certifications:
Level 2 Fitness Instructor
Level 3 Personal Trainer
Kettlebell Certification
Marathon Coach Certification (England Athletics)
Meaghan's motivation is helping others achieve their fitness goals, to teach them something new and to have fun while doing it!
Fitness Super Power:
To run around the world
"Each day is a new opportunity to improve yourself; make the most of it"
---
Nancy Alexander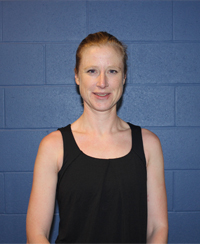 Nancy Teaches:
HIIT (Drop-in Class)
Certifications:
Group Fitness Instructor, canfitpro
Yoga Fit Level 1
Nancy's passion is motivating others to enjoy fitness as much as she does. She always feels so proud and happy when she sees the participants in her classes working hard and walking away with a sense of accomplishment. After her own workouts, whether it be a really hard class or a 32km run, she loves having fresh fruit and a protein bar.
Fitness Super Power:
Endurance!
"A daily hit of athletic-induced endorphins give you the power to make better decisions, helps you be at peace with yourself, and offsets stress."
---
Natalie Longaphy
Natalie Teaches: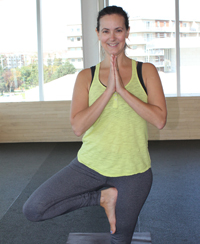 Kids Yoga Camps
Yoga
Certifications:
Yoga Teacher Training Certified, 200 hours
Thai Yoga Massage Level 1 & 2
Reiki Level 1
Natalie's family motivates her- her husband, 7 year old daughter, and 4 year old son. Her passion is helping and inspiring young girls to follow their dreams and create positive change in their community.
Fitness Super Power: Acrobatic powers- to be able to do flips, have amazing balance and walk on my hands!
"It's about progress not perfection."
---
Priyanka Kapahi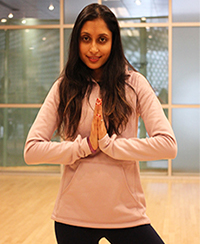 Priyanka Teaches:
Kids/Youth Fit – Dance (Drop-in Class)
Introduction to Yoga (Registered Class)
Certifications:
200hr. Yoga Teacher Training
30hr. Yin Yoga
IFBC Ballet Dance Instructor
Danceworks and SPIDA trained in Bollywood and Jazz Fusion
Priyanka's motivation is to create and grow in dance and yoga. She is passionate about guiding others and leaning while teaching, and playing and exploring with movement.
Fitness Super Power:
Abdominal and core strength, strong consciousness and awareness of self and my body.
"Find what feels good. Find your true self"
---
Ron Salah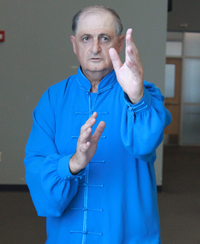 Ron Teaches:
Yang Style T'ai Chi Ch'uan
Experience:
32 years of experience studying and playing T'ai Chi
Ron has a Bachelor Degree in English Literature and Philosophy from Saint Mary's University.
Fitness Super Power:
Patience and determination
"Success grows out of love and humility, patience and determination and faithful practice."
---
Tara Roach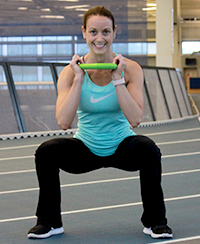 Tara Teaches:
Core (Drop-in Class)
HIIT (Drop-in Class)
Certifications:
STRONG
JM BodySHRED
FIS Certified, canfitpro
LM BodyPump
Healthy Eating and Weight Loss Coach Certification
Tara has a passion for eating healthy, and exercising. She is motivated to create a class environment that welcomes everyone, encourages everyone to challenge themselves, and maybe have a few laughs along the way! She also loves to hear success stories from her participants!
Fitness Super Power:
Ability to never get tired!…or injured!
"Whether you think you can or you can't, you're right!" Henry Ford
---
Tracy Cipryk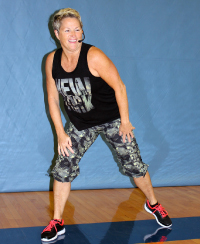 Tracy Teaches:
Dance Fusion (Drop-in Class)
Certifications:
Drummer Dance Certified
Master Trainer for Gymstick
Resist-a Ball, CanFitPro
Yoga Teacher Certified, 500 hours
Tracy is the Creative Director and Fitness Chair for Bust a Move for Breast Health. She has a passion for inspiring people to move and think differently about their bodies, minds and health.
Fitness Super Power:
Ability to make anybody and everybody laugh!
"Be the change you want to see in the World."
---
Wanda Martin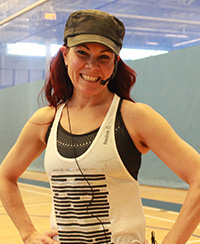 Wanda Teaches:
NEW Tune-up & Tone Express (Drop-in Class)
Forever Strong (Drop-in Class)
STRONG 45 Express (Drop-in Class)
Certifications:
FIS Certified canfitpro
LesMills SH'BAM
Advanced Instructor Module 1
Advanced Instructor Module 2
Wanda's motivation and passion is to help people meet their fitness goals day by day… even if it is to just make them smile!
Fitness Super Power:
If there is music, move it, MOVE IT!!
"Keep moving to your own beat!"
More Fitness Instructor Profiles coming soon….