Online Booking/Registration
The Canada Games Centre (CGC) software system now aligns with other recreation centres across the Halifax Regional Municipality (HRM) while continuing to provide you with exceptional CGC programs and services. The online experience, MyRec, allows you to search, book/register and manage your recreation activities (including birthday parties) and programs within one account, no matter which facility you choose.
New to MyRec? Please see the MyRec Frequently Asked Questions (FAQ). MyRec works best in Google Chrome.
Register For Programs
The easiest way to find the CGC programs you want in MyRec is to click on the program codes in our program guides. Another option is to use the codes in the guide to search for programs in MyRec. For help registering, please see How to Register for CGC Programs in our MyRec how-to's document and troubleshooting.
MyRec Fun Fact: Registering for programs for your family/group can be completed in one MyRec account when you are all linked.
---
Fall 2022 Program Guide Now Online!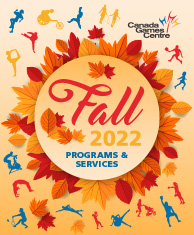 Click to view the full Fall 2022 Program Guide
Registration for fall programs remains opens until the second week of the program, provided space is available.
---
Transition to MyRec FAQ
MyRec How-To's
This how-to document contains the following how-to's with screenshots:
How to How to Log in/Change Password for your MyRec Account
How to Create A New MyRec Account
How to Book a CGC Activity or a CGC Birthday Party in MyRec
How to Cancel a CGC Activity in MyRec
How to Register for CGC Programs in MyRec
Troubleshooting
---
---
I'm a CGC Member, do I need to set up a MyRec account?
No, we've done that for you! To make the transition easier, we migrated all our members to the new system and set you up with a MyRec account using your email address on file. If you already had a MyRec account from registering for a program at another facility within HRM, we linked your CGC membership to your existing MyRec account.
---
How do I log into MyRec to check/update my information?
To help you log into your account, we've created a how-to: View How-To's
If you are having trouble logging in or need assistance accessing your account, please contact our Customer Service Team at 902.490.2400 ext. 7.
---
I am a CGC Member, do I need to update my payment information in the new system?
Only CGC members paying bi-weekly with a credit card need to update their payment information with us. You can do this by stopping by the Customer Service Desk with your credit card during facility hours.
If you are a CGC member on a paid-in-full membership, 1 month or 10 punch pass, or paying bi-weekly through EFT/banking, you do not need to update your payment information.
---
I'm a CGC Member, does my MyRec account include my household/family members?
Yes. Most of the CGC member households with more than one member within were successfully grouped in MyRec. However, it's always a good idea to double-check your account! If you do not see your family or add-on members within your group, we've created a how-to to help you add them: View How-To's
---
I'm not a CGC Member, but I will be booking activities/registering for programs online, do I need a MyRec account?
Yes. To book a CGC activity; book a birthday party or register for a CGC program online, you will need a MyRec account. If you don't already have one, we've created a how-to to help you create your account: View How-To's
---
My family members are not linked to my MyRec account, how do I add them?
Don't worry, we can help! To link family members to your MyRec account for booking activities, please call our Customer Service Team at 902.490.2400 Ext. 7.
---
How do I book a CGC activity in MyRec?/ How do I cancel a CGC activity in MyRec?
We're glad you asked and created how-to's for both of those. View How-To's
Please note: Activity booking is completed on an individual basis –i.e. each member of your family/group will need a unique email address and log in separately to complete the activity booking process. Fortunately, we have a how-to for creating new MyRec accounts if required. View How-To's
---
How do I register for a CGC program in MyRec?
Great question! We have a how-to for that. View How-To's
---
What if this FAQ doesn't answer my question?
If our FAQ has not addressed your question, we'd be happy to help you. Please contact us at membership@canadagamescentre.ca or call Customer Service at 902.490.2400 ext. 7.
---
---
Troubleshooting
I'm having trouble logging into MyRec, can you help me?
Please note: MyRec works best with Google Chrome. If you are using a different internet browser, we suggest you open MyRec in Google Chrome.
If you're having trouble logging into your MyRec account and are receiving a "The username and/or password you've provided is incorrect." message, you can do a couple things:
Double-check your email and password are spelled correctly. When we are excited to log in, we sometimes hit caps lock by accident or make a typo.
Try a different email address. Many of us have more than one email address, your account could be linked to a different one of yours.
If you're sure of your email address but not your password, you can select reset password on the login screen. If this doesn't work and you receive an "invalid email" message, please proceed to Step 4.
Give us a call! We'd love to help you. You can reach our Customer Service team at 902.490.2400 ext. 7
---
I'm seeing an "Error 400" message / I'm getting stuck on the payment screen when trying to process my payment.
If you're at the payment processing screen and it's getting stuck or showing you an Error 400 message you can try the following:
Clear your internet browser history and cache. Then proceed with your registration again.
At the payment screen, manually enter your credit card number instead of selecting to use a saved card associated with your account.
If you're still having issues, give us a call! We'd love to help you. You can reach our Customer Service team at 902.490.2400 ext. 7