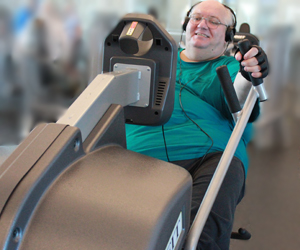 Tony MacIntyre
July 2017
CGC member Tony MacIntyre is on a mission. That mission is to lose 300lbs, and he is well on his way. If you're an early bird like Tony, you can find him in the Fitness Centre trying to beat his time from the day before on the SCI FIT or working with the cable machines. For Tony, the finish line is just the beginning of a whole new race.
"The CGC has been so great to me. The members are the best...the staff is the best..."
---
"I was born in Glace Bay, Cape Breton. As a Ward of the Children's Aid Society, I moved around and lived in Iona, Sydney Mines, New Waterford and Glace Bay, but I would have to say Sydney was home base." 
---
What do you like about the CGC?
"The CGC has been so great to me. The members are the best, they don't judge me. The staff is the best, they really are helpful in every aspect of my health goals. They have each taken time to show me a new routine on the cable machine or with free weights. I appreciate their assistance every day I'm in.  I was so intimidated at first, but members have come up to me and will actually shoot me a line of 'good for you' or 'you're still on the move'. The members are so supportive or at least that's my take on it." 
---
What motivates you to maintain an active lifestyle/ why is fitness so important to you? 
"I have so many reasons why I need to be in the gym and that, in and of itself, is enough reason to motivate me to go in four days a week (most times). I have A-Fib, Diabetic Neuropathy and Diabetes. I have already dropped two medications since I started coming in for workouts and the goal is to be down more medications in the coming year. Truth be told, I'm not a tiny fella, I need to lose about 363lbs to get to my goal weight of 200lbs. I currently use a walker and have a catheter, but with the latter two removed, I will be well on my way to my fitness goals. I like to challenge myself everyday on the SCI FIT. If on Tuesday I do 60 minutes, then Wednesday I strive for 70, always one upping myself. "
---
What is your favourite workout routine/ where in the CGC will we find you?
"Well, if you venture out early, early in the morning Tuesdays-Fridays, you'll find me on the SCI FIT. I can be on it from 50 to 90 minutes a day. Most times, I head down to the cable machine to do strength exercises. I even try to get in some free weights if time allows."
---
What is your favourite post-workout snack?
"I love Bandha Bars. They're oh so good and a great source of protein. If I have none of those, I shoot for a banana and an Activia yogurt."
---
What is your favourite movie/book/tv show?
"I love the new NBC show 'This Is Us.'"
---
What is your go to workout song or what are you listening to right now?
"Would you believe that right now I'm listening to Patrick Hernandez's 'Born to be Alive'? I like most genres of music but those who know me know I love disco, classic rock, 60s, 70s, and 80s music."
---
What is your favourite quote?
"One of my favourite quotes is 'The finish line is just the beginning of a whole new race'. It's a never ending run at life, you succeed by smashing a goal, then you move onto the next and so on. Life, to me, is about repetition but we need to strive to make the right choices to live a fulfilling one."
---
What do you wish other people knew about the CGC?
"The Canada Games Centre is inviting, the staff are here to help in every way they possibly can. It has everything one needs to reach a goal or two. The Field House, fitness classes,  Fitness Centre, Aquatics Centre & so much more. Also if I may be permitted, you are not bothered during your workout by a salesperson trying to sell you some PT time. It is a very comfortable environment to be in. No pressures or the likes. If you haven't been in please take the time to drop by & say hi. Go for the tour & I think you will get hooked. I'm sure you will! This is where our dreams & our goals are made possible. It really does happen here!" 
Thank you Tony for including us in your fitness journey!