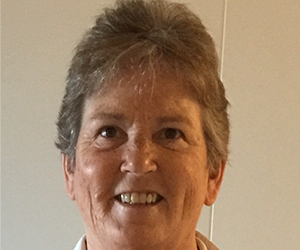 Phyllis Longobardi
April 2021
Meet Phyllis, a proud Nova Scotian, StFx alum, and our member profile for April 2021. She moved back home after being out west for many years and quickly became a member at the CGC, eager to establish a new healthy routine. More often than not, Phyllis can be found engaged in more than one activity a day; Aquafit classes, lane swimming, and walking the Track are among her favourites. As a retired Phys. Ed teacher, she understands the physical and mental benefits of being active, and how it can improve one's quality of life at any stage.
"I want others to know you are never too old or too young to start."
"I grew up in a small fishing village of Queensport and then Guysborough before moving west for almost 35 years. I returned home first to Amherst and now to Halifax. I have been in Halifax just a year now."
---
What do you like about the CGC?
"There are a few things I enjoy and appreciate about the CGC. I appreciate the wide range of activities which are offered to all age groups. I think this is what makes the Centre top rate. I enjoy the friendliness of staff and patrons. They are all very welcoming. Above all I feel safe in this environment which is extremely important to me to be able to go somewhere by myself again."
---
What is your favourite workout routine/where in the CGC will we find you?
"By far I like Aquafit the best as it is easy on the joints and helps enormously with balance. You can find me on the Track and in the pool. "
---
What motivates you to maintain an active lifestyle/why is fitness so important to you?
"First and foremost fitness gives a better quality of life. Movement becomes easier and the brain is engaged which helps with mental wellness. When you have been very busy in life with a career and suddenly that comes to an end, you have a choice. Visit the refrigerator lots or find activities that 1) will keep you away from the refrigerator and 2) help you take off the weight you gained by visiting the refrigerator. It was time to get off the sofa and out of the fridge and do something for me."
---
What do you like to do in your spare time?
"I enjoy planning events, making Easter eggs the Ukrainian style, scrapbooking, golfing, and teaching myself to play the piano. Perhaps someday the clarinet and guitar will come out of storage."
---
What is your favourite food or indulgence?
"Having grown up in Nova Scotia my favourite food is fresh lobsters, potato salad and maybe a piece of apple pie."
---
What is your favourite post-workout snack?
"I usually work out all morning and then do lunch. No snacks but if need be I reach for fruits or walnuts."
---
What is your go-to workout song or what are you listening to right now?
"I tend to listen to singers that 1, know how to sing and 2, you can sing along as they actually have lyrics. So there is no one genre that I listen to: it just needs to have a good beat and I am able to sing along with. When I am on a stationary bike I watch You Tube videos of comedian Jeannie Robertson. She cracks me up."
---
What is your favourite quote?
"It has taken me almost 6 years to get to this point in life again, but I have learned to put the excuses away. So my favourite quote is: You have to play the hand you were dealt."
---
What is your current workout goal or proudest accomplishment since starting at the CGC?
"Most important to me was to be out doing something for myself and enjoying it. I needed to get moving and get in better shape. If I lose weight, bonus."
---
What do you wish other people knew about the CGC?
"I would want people to know that protocols are followed very well. There are lots of activities for all ages and all levels of fitness. I would also want others to know you are never too old or too young to start. The Centre has something for you."