Booking a Badminton/Pickleball Court Online
A single player can book a court on behalf of their group of players. Before you begin, decide who within your group will book the court and have the group representative log into MyRec.*
Once logged in, select "Drop in Bookings"
Under Category, click on "Book classes"
If not already chosen, under Rec Centre select Canada Games Centre from the menu.
Under Activity, select CGC Badminton for badminton courts or CGC Pickleball for pickleball courts. Make sure you click apply.
Use the calendar icon or arrows to change the date if needed. Members can book up to 3 days in advance; non-members 1 day in advance.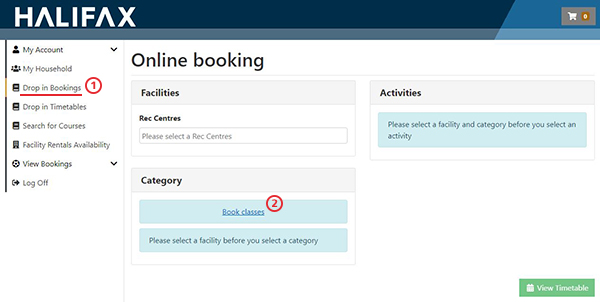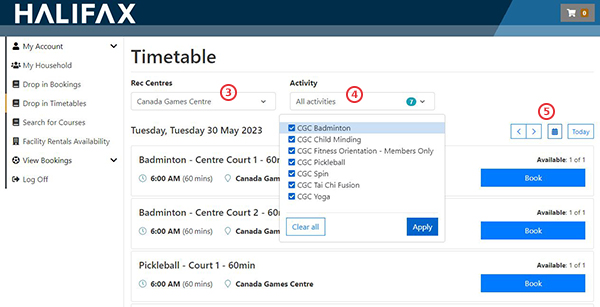 After you've found the available court you want, click "Book" and follow the prompts to the complete and confirm the booking.
*New to MyRec? See our How-To's.
---
Booking a Badminton/Pickleball Court In-Person
Courts can also be booked in-person at the Customer Service Desk (up to 3 days in advance for members; 1 day in advance for non-members).
---
Booking Rules
In an effort to make things fair, we will be monitoring the software bookings for double-bookings, multiple back-to-back sessions, and excessive no-shows. To help provide others with the opportunity to book and play, we ask that you:
Do not book more than one court for your group during the same time slot.

 

(Ex. If Jane Doe books courts three and four (3 and 4) at 10am, staff will remove one of those court bookings to make it available for others).
Limit your group to only two (2) bookings back-to-back.

 

(Ex. 10am & 11am, but not 10am, 11am and 12pm etc.)
Show up for your booked court time. Staff will be monitoring "no-shows" and if an individual does not show up for their booking a total of three times (3x), the individual's booking privileges will be suspended for a term of one (1) month.
Can't make your booked court time anymore? Please cancel your booking in

 

MyRec

 

to avoid being counted as a "no-show".
---
Arriving for Your Booked Court Time
Arrange to meet your group at the CGC for your booked court time. Members scan their card at the gates to enter; non-members check-in at Customer Service and pay for a day pass.
Head to the Field House to play badminton or pickleball on your booked court, have fun and get in a good workout!
Feel free to bring your lucky and/or favourite racquet, shuttle or ball with you! We have a limited number of racquets, balls, and badminton shuttles/birdies onsite.
---
General Information
Please note the Field House Desk cannot make new bookings or change/cancel bookings. You can make new or cancel existing bookings through your online MyRec account or by visiting the Customer Service Desk.

We also offer Drop-in Pickleball.
For groups larger than 15 people, please contact our Facility Rentals & Events Coordinator at 902.490.2238.