Lead. Teach. Save. We have courses to teach you first aid, lifesaving skills and much more. Whether you are interested in becoming a lifeguard, a swim instructor or just learning to become a better leader, these courses will help you develop strong leadership skills that will last a lifetime.
Leadership Training we offer based on the Lifesaving Society's programs:
Bronze Star
Bronze Medallion
Bronze Cross & Assistant Instructor
Swim for Life Assistant Instructor & Lifesaving Instructor
National Lifeguard Service & Standard First Aid
Please see our program guide(s) below for enrollment information, dates and times.
---
Lifeguard Compact Course Added
Bronze Medallion/Cross & National Lifeguard Service (NLS)
Thursday, October 18th & Friday, October 19th and Monday, October 22nd-Saturday, October 27th
8:00am-4:00pm
Ages 16+ and able to swim 400m in 10 minutes
Free with a work commitment of 3-10 hours per week until June 2019
Online registration code 310178
Join the CGC Aquatics staff today! We are running a compact course for Bronze Medallion/Cross and National Lifeguard Service certifications in October.
Bronze Medallion/Cross are the prerequisites for all advanced training programs including National Lifeguard Service certifications. National Lifeguard training builds on the fundamental skills, knowledge, and values taught in the Lifesaving Awards of the Lifesaving Society to develop the practical skills and knowledge required by lifeguards. Recognized as the standard measurement of lifeguard performance in Canada, National Lifeguard education is designed to develop a sound understanding of lifeguarding principles, good judgment, and a mature and responsible attitude towards the role of the lifeguard. The National Lifeguard's primary role is the prevention of emergency situations, and where this fails, the timely and effective resolution of emergencies.
Questions? Reach out to Chris Hanlon, Aquatics Operations Coordinator at hanlon@canadagamescentre.ca.
Register today as space is limited. 
---
Leadership Programs Added for December
Bronze Medallion
9 sessions | 2 hours per session
December 3rd to 14th | 4:50pm-6:50pm
Members $120, Non-Members $135
Online registration code 310172
Prerequisite: Minimum 13 years of age or Bronze Star
certification (need not be current).
Bronze Medallion teaches an understanding of the lifesaving principles embodied in the four components of water rescue education: judgment, knowledge, skill, and fitness. Rescuers learn tows and carries, as well as defense methods and releases in preparation for challenging rescues of increased risk involving conscious and unconscious victims of various types. Lifesavers develop stroke efficiency and endurance in a 500m timed swim. Registration includes book and exam
fees and practice instruction time. Please note: Exam may be scheduled after the last session
Bronze Cross & Assistant Instructor
9 sessions | 3 hours per session
December 3rd to 14th | 4:00pm-7:00pm
Members $135, Non-Members $145
Online registration code 310173
Prerequisite: Bronze Medallion
Bronze Cross & Assistant Instructor is designed for lifesavers who want the challenge of more advanced training including an introduction to safe supervision in aquatic facilities. Bronze Cross is the prerequisite for all advanced training programs including National Lifeguard Service and Instructor certifications. Physical standard includes a 600m timed swim. Through classroom learning and in water practice, the Lifesaving Society Assistant Instructor course prepares candidates to help certified instructors with swimming and lifesaving classes. Candidates are introduced to key principles of learning and teaching, and they master basic progressions. The roles and responsibilities of instructors and their assistants are strongly emphasized throughout the program. Registration includes exam fees.
Please note: Exam may be scheduled after the last session. Participants will only receive assistant instructor award if they are 14 years old.
---
Fall 2018 Program Guide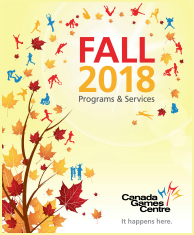 Fall Registration Dates
MEMBERS:
Online: August 7th, beginning at 8:00am
In-person: August 9th, beginning at 8:00am
NON-MEMBERS:
Online: August 14th, beginning at 8:00am
In-person: August 21st, beginning at 8:00am
Click to view the FALL 2018 Program Guide