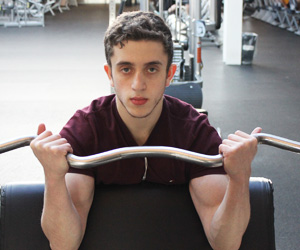 Mohammad Hafez
January 2017
This month, we're excited to introduce you to a dedicated youth member of the CGC community. Meet Mohammad Hafez, a Halifax West High School student, who has been a member for the past year. We caught up with Mohammad in the Fitness Centre, where he spends the majority of his workout time.
---
What do you like about the CGC?
The staff are very friendly and helpful. The staff always have good advice when I need it.
---
What motivates you to maintain an active lifestyle?
I am motivated to maintain an healthy active lifestyle because of the people I meet in the Fitness Centre.
---
What is your favourite workout routine/where in the CGC will we find you?
I mostly use the equipment in the Fitness Centre. My favourite thing to do is lift weights, but I also like to spend time on the basketball court with friends.
---
What is your favourite post-workout snack?
My favourite meal after a workout is grilled chicken, rice and a protein shake.
---
What is your current workout goal or accomplishment since starting at the CGC?
My goal is to always beat people's expectations of me and continue to maintain my healthy lifestyle.
---
Thank you Mohammad for sharing your passion for working out with us!