phys·i·cal lit·er·a·cy noun : Physical literacy is the motivation, confidence, physical competence, knowledge and understanding to value and take responsibility for engagement in physical activities for life.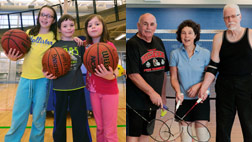 At the Canada Games Centre, we strive to provide the best programs and services possible to improve physical literacy for all – from the very young to the young at heart.
Following the Sport for Life (S4L)'s guidelines for physical literacy, we continue to add and improve programming every season.
---
Wrestling Club
Ages 9+
5 sessions | July 14th-August 25
Sundays, 6:00pm-8:00pm*
Members $5/practice, Non-Members $5/practice
Online registration code 220203
Location: Field House
* Please note that there will be no program on Sunday, July 28th & Sunday, August 4th.
The Canada Games Centre Wrestling Club (CGCWC) is an amateur wrestling club operating out of our Centre. The club offers fundamental and advanced training for beginners and experienced wrestlers alike and is always accepting new female and male members of all ages. This program is recommended for participants who have already attended one of our wrestling programs or have some prior wrestling experience.
---
2019 Summer Camps & Programs Guide
SUMMER REGISTRATION DATES

MEMBERS
Online | March 26th, beginning at 8:00am
In-person | March 28th, beginning at 8:00am
NON-MEMBERS
Online | April 2nd, beginning at 8:00am
In-person | April 9th, beginning at 8:00am
Click to view the 2019 Summer Camps & Programs Guide
---
Spring 2019 Program Guide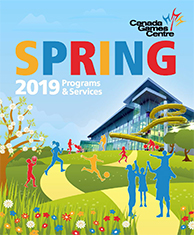 Spring Registration remains open until the second sessions begin.
Click to view the SPRING 2019 Program Guide
---