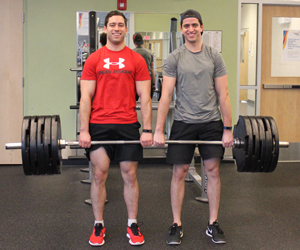 Coady & Matt MacNaughton
March 2017
Meet the MacNaughton brother's - Coady and Matt! These brothers grew up leading active lives in Westville, NS and are now fixtures at the CGC almost every day of the week alongside their workout buddy Colby. We wanted to know how they keep active when they're not teaming up for a deadlift.
"We both like that the CGC is a facility that not only provides space to strength train, but also a place to hit the pool, track or the court."
---
"We both referee elite level hockey, so keeping in shape is essential. The players put in time to get bigger, stronger and faster, so as referees we must also maintain an active lifestyle. Seeing physical results and reaching goals is another big motivator in the gym."
---
What's your favourite workout?
"Chest and Bi's! You could find us in the Fitness Centre early during the weekdays or playing badminton or in the hot tub in the evenings." 
---
What's your favourite post workout snack/meal?
Matt - "Classic protein shakes or slamming burgers." Coady - "Ham and egg white omelettes or Egg McMuffins" 
---
What is your current workout goal or accomplishment since starting at the CGC?
"We focus on strength and performance training for the most part. We've recently signed up for the Cabot Trail Relay Race in May, so we we will be incorporating some running in our routines soon enough."
---
What do you like to do in your spare time?
"Referee, lob ball, tennis, hiking."
---
Thanks Coady and Matt for sharing your training and active fun with us!