Not a member? No problem.
Drop-in admission provides access to all areas of the Centre – including our group fitness classes running that day. See what we have to offer with a Day Pass. You can even visit the Centre multiple times in one day.
Looking to try something specific? Our schedules for each area of the Centre are posted online and available at the Customer Service Desk.
Try us out – we know you'll have fun!
| CATEGORY | DAY PASS RATE | 10 PUNCH PASS RATE* |
| --- | --- | --- |
| Adult | $12.65 ($14.55 tax included) | $110.00 ($126.50 tax included) |
| Senior (60+) | $8.26 ($9.50 tax included) | $71.52 ($82.25 tax included) |
| Young Professional (19-25) | $9.39 ($10.80 tax included) | $82.48 ($94.85 tax included) |
| Youth (3-18) | $7.74 ($8.90 tax included) | $66.00 ($75.90 tax included) |
| Family | $23.65 ($27.20 tax included) | $203.48 ($234.00 tax included) |
| Add-On | n/a | $66.00 ($75.90 tax included) |
Family: Includes two adults and however many children under the age of 19 living in the same house. Family members must be related by blood, marriage, common-law or legal guardianship to be eligible for Family rate.
Youth: Youth Day Pass visitors must be 18 years of age to use the Fitness Centre.
We ID
Photo identification is required with the purchase of every day pass and 10 Punch Pass. Alternatively, bring along your ID for your next visit and we'll take a picture of you for our system, and your ID won't be required going forward.
We ID for the safety and security of our members, visitors and staff within our facility. We never share or sell your information to any third parties.
---
Welcomed In Halifax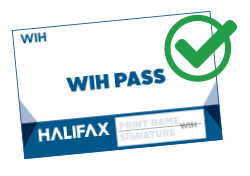 We accept Welcomed In Halifax (WIH) passes for free day pass access to the CGC. Photo identification is required with the WIH pass.
Help for refugees in Halifax: The WIH pass program welcomes recent refugees to the city with free access to Halifax Transit and recreation facilities for one year. For more information, eligibility and where to get the WIH card please visit: https://www.halifax.ca/about-halifax/diversity-inclusion/getting-around, Immigration Services Association of Nova Scotia, or Halifax Refugee Clinic.
---
*10 Punch Pass Terms & Conditions
10 Punch Passes expire after 10 visits or after one (1) year from the date of issue (regardless of unused visits).
Passes cannot be shared with persons not registered with the punch pass.
Add-on must reside in the same household as the main 10 punch pass holder to qualify.
10 Punch Passes do not qualify for member only discounts or advanced program registration.
Pass holders must be at least 18 years old to use the Fitness Centre.
To enter the facility, you must scan your access card at the gates.
When scanning your card at the CGC access gates, do not scan it more than once a day. A visit is removed from your pass every time you scan your card. If you need same-day re-entry beyond the gates, you must visit the Customer Service Desk for access.
If you use other facilities within the Halifax Regional Municipality, you only require one card (regardless of the logo or facility name on it). Services purchased at other locations will be loaded onto the same card, however services do not transfer from one facility to another, i.e. the CGC 10 Punch Pass is only valid at the CGC. You can only have one (1) active card, if a new card is issued, the previous card becomes inactive.
Pass holders must follow age requirements and the User Code of Conduct for the facility (more details below).
---
Age Requirements and Code of Conduct
Youth ages 8 to 11 must have a parent or guardian in the building at all times.
Children ages 7 & under must have a guardian within arms' reach at all times.
Youth under the age of 18 are not permitted to use the Fitness Centre with a Day Pass or 10 Punch Pass.
All visitors, members and staff of the Canada Games Centre commit to following the User Code of Conduct.