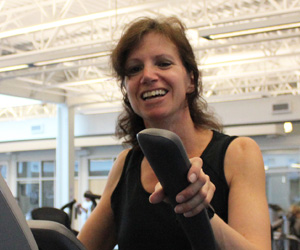 Nicole Briand
November 2015
"Use it, or lose it" is Nicole's daily motivation. She uses the Centre almost daily. Showing up for her workout, Nicole's happy to have so many options under one roof. You can find her in the Fitness Centre, using the weight machines and stationary bikes. She also enjoys using the Track, pools and Sauna.
"The Centre has become a life support that is vital to my well-being."
She sees the Centre as a place where she can maintain her physical, emotional, social and spiritual wellness. Despite having survived a serious car accident 25 years ago, which has left her with arthritis, and now facing an upcoming operation, Nicole hasn't let this dampen her spirit or wellness goals. She also hasn't let these things keep her from doing other activities she loves; like volunteering, relaxing and hanging out with friends.
Congratulations Nicole on being November's Member Profile!