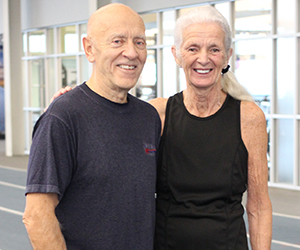 Sharon & Marcel Aucoin
February 2022
Sharon and Marcel are longtime members of the CGC community and amazing at maintaining a healthy routine. Not only are they active at the CGC multiple days week, they also fit a variety of activities into every visit. Some activities they perform together, others separately to suit the type of movement they enjoy, and on occasion Sharon's shared a fitness class or two with their daughter and granddaughter. Even with all that activity, Sharon and Marcel still find the energy outside of the CGC to fill their spare time with friends, family, hikes, dance classes and making music.
"Being active together with new found friends is its own motivation and inspiration."
Sharon – "Halifax, NS"
Marcel – "Cheticamp, NS"
---
What is your favourite workout routine or your current fitness goal?
Sharon – "In order to address cardio, muscle toning, coordination, balance, flexibility and strengthening, I begin each day with cardio in the Fitness Centre (usually the treadmill) and then down to a variety of drop-in daily classes such as Cardio Combat, Dance Fusion, Pumped, and HIIT. I finish up with a walk on the Track. These are my means of continuing to stay well, become stronger and enjoy myself with friends in the process. This remains my routine and goal each day of the week."
Marcel – "My routine is walking/jogging the Track followed by a workout on the weight bearing equipment and then I head for the pool."
---
What motivates you to be active/why is fitness important to you?
Sharon – "Being a senior, I realize how important exercise is in keeping me healthy mentally and physically. Being active together with new found friends is its own motivation and inspiration as are our dynamic instructors. As well, my three teenage grandchildren are a motivation and inspiration. We encourage each other to 'Be Your Best and Do Your Best'. We also know that exercise is key to longevity...With that in mind I am encouraged to remain active both for myself and for our family."
Marcel – "Motivation comes from my wife who is there five days a week. I am there three days a week for obvious reasons – to maintain my good health."
---
What is your go-to workout song or what are you listening to right now?
Sharon – "Queen's 'Don't Stop Me Now' is my go-to song. That said, a variety of music filters through the Fitness Centre, during the classes and as we walk the Track where we hear Latin music and music from the Sixties and Seventies... These all put rhythm in my step."
Marcel – "I just listen to the ambiance around me."
---
What is your favourite post-workout snack?
Sharon – "Almonds are my go-to when I get home."
Marcel – "I rarely snack."
---
What is your favourite food or indulgence?
Sharon – "A lovely halibut dinner served in a cozy restaurant."
Marcel – "Lasagna."
---
What do you like to do in your spare time?
Sharon – "Gardening, High Head hikes, dog walking, spending time with our family and friends, and taking dance lessons with my husband."
Marcel – "As an amateur musician, I enjoy the time playing with my bandmates."
---
What is your favourite book/movie/TV show?
Sharon – "One of my favourite movies is Mamma Mia... light and full of great music and wonderful actors."
Marcel – "I read a lot and cover a fair amount of non-fiction material. My interests are varied."
---
What do you like about the CGC?
Sharon – "The CGC has been part of my life for the last ten years. Every day during my time there, I get to enjoy diverse opportunities to stay healthy. The CGC offers to us all - of any age - a well organized, safe environment where supportive staff and dedicated competent instructors meet everyone's needs as we grow stronger – not only in our physical health, but also in friendships created as we participate together throughout the days. I love seeing the age variance – young and older sharing good times together."
Marcel – "The facility is easily accessed and it provides plenty of parking spots."
---
What is your favourite memory of the CGC?
Sharon – "There are many moments to treasure... I believe that the best memory I will have are the friendships I have developed as well as the treasured times together there with my family. There were times at the CGC where my daughter, granddaughter and I participated in drop-in classes together, giving evidence to the cross-generational opportunities found and naturally created at the CGC... Such joy and fulfilment for everyone."
Marcel – "I enjoy each day and don't recall a particular favourite situation or memory."
---
What do you wish other people knew about the CGC?
Sharon – "Great hours from before sunrise to after sunset, every day of the week, a beautiful and well equipped facility, all ages welcomed and abilities addressed, an enjoyable and treasured place where each individual is able to create their own path to active living. Where else can one go almost 365 days of the year for such a reasonable rate? There are so many classes offered daily that are excellent and immediately part of your membership fees. As well, membership fees can be frozen during any planned long-term absences! The CGC will be awaiting your return! Come take a tour! Join up and join in!"
Marcel – "Everything it has to offer for all ages and level of physical ability."