2021 Summer Camps & Programs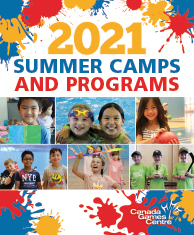 (April 30th Update) – With the current closure of the CGC as directed by Public Health to rec facilities, we are making adjustments to our Summer Camps & Programs Registration.
Summer Camps Registration: 
Member Online | May 4th beginning at 8am in MyRec
Non-member Online | May 11th beginning at 8am in MyRec
While we are unable to help you in-person, if you require assistance or have any questions about Summer Camps and/or registering online, our Customer Service Desk is available by phone at 902.490.2400 ext. 7 from Monday–Friday 8am-4:30pm; Saturday & Sunday 8am-1pm.
Registration for all other Summer Recreation, Fitness and Aquatics Programs:
Postponed: Registration for summer programs, including swim lessons, will be rescheduled to a later date. An update on registration for these programs will be provided later in May, pending the latest information from Public Health regarding restrictions moving forward.
Thank you for your patience and understanding. We're still very much looking forward to a safe, fun and active summer!
Click to view the full 2021 Summer Camps and Programs Guide
Don't forget, you need a MyRec account to register for programs at the CGC! 
Questions about our Summer Camps?
Our 2021 Summer Camp Parent Handbook can help! It outlines what your child should bring to camp, behavioural guidelines, along with other general policies and procedures.
Parent Handbook – Coming Soon!
Camp Participant Forms (Medical and Permission) – Coming Soon!
Counsellor In Training  
Unfortunately, we are unable to offer this program at this time.
Inclusion Program
We welcome children of all abilities in our summer camp programs. We offer an inclusion program for campers requiring extra support due to a physical, medical, behavioral and/or developmental exceptionality. Campers will receive one on one support from an Inclusion Counsellor who is charged with meeting the camper's personal and developmental needs, making every effort to include campers in adapted activities, and ensuring their overall safety and happiness while in our care. While we are happy to try our best to accommodate all participants' needs, please understand that some needs may be beyond our scope of accommodation. Please note that by not disclosing the needs of a participant prior to registration we may be required to withdraw the participant from the program until appropriate supports can be put into place or become available.
Registration
To apply for a space for your child in our inclusion program, please complete and submit the application form and provide the supporting documentation required.
Application deadline is May 2nd, 2021.
Please note that we only have a limited number of spaces available each week throughout the summer. The total number of weeks available to each participant is dependent on how many applications we receive for the program. We will attempt to distribute weeks as evenly as possible amongst applicants.
Once we have confirmed the weeks available for each applicant, we will contact parents to confirm payment and to arrange a meeting, if necessary, to help support the training needs of staff and to discuss the program modifications and behavioral strategies required to be in place to ensure a safe and enjoyable experience for the participant.