2023 Summer Swimming Meet Schedule
Saturday, July 8th
Sunday, July 9th
Saturday, July 15th | Windsor Bluefins
Sunday, July 16th | Colby Sailfish
Saturday, July 22nd | Bedford Beavers
Sunday, July 23rd | Bridgewater Barracudas
Saturday, July 29th | Lunenburg Mariners
Sunday, July 30th | Canada Games Centre
Saturday, August 5th | Kentville Marlins
Sunday, August 6th | St. Margaret's Bay Breakers
Saturday August 14th
Friday, August 18th to Sunday, August 20th | PROVINCIALS – Waeg Waves
For more details about the Summer Swimming, visit Swim Nova Scotia's website at swimnovascotia.com/summer-swimmers.
Lifesaving Sport Competition Dates
August 12th | Junior Lifeguard Championships, Rissers Beach
Stay tuned for upcoming 2023-2024 lifesaving competition dates!
Upcoming Holidays
August 7th | Natal Day, CGC closed
September 4th | Labour Day, CGC closed
Stay tuned for 2023-2024 holiday dates!
CGCSA Off-Season Swim Team Training Schedules
Weekly schedules for annual and seasonal programs are noted in the appropriate CGC Program Guides.

Stay tuned for upcoming 2023-2024 time trial dates!
---
Fall 2023 Program Guide Now Online!
Click to view the Fall 2023 Program Guide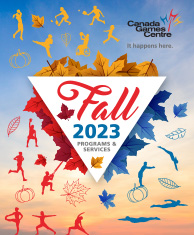 FALL 2023 REGISTRATION DATES
Members:
Online | August 8th, beginning at 8:00am
In-Person | August 10th, beginning at 8:00am
Non-Members:
Online | August 15th, beginning at 8:00am
In-Person | August 17th, beginning at 8:00am