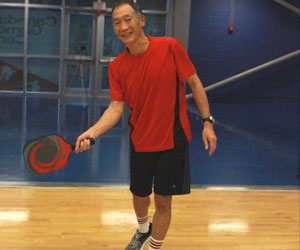 Jack Yee
December 2017
Jack Yee has a deep connection with the CGC. It was in the Aquatics Centre where he conquered his fear of water and learned to swim at age 60. These days, it's Pickleball that's caught Jack's attention after being introduced to the sport by a fellow and memorable member named George. George has sadly since passed away, but not before teaching Jack all about Pickleball. Jack now competes in tournaments and has made many new friends through the Pickleball community. Jack credits George for bringing together such a great group of players at the CGC. As a member committed to health and physical activity, you never know where Jack might pop up – in the pool, Fitness Centre, or on the Pickleball courts. But one thing is for certain, that wherever he is, he will be sporting a big smile on his face.
"The CGC offers value, location,  friendly staff and many choices of various activities."
---
"I was born in Hong Kong, but Halifax is my home now." 
---
What motivates you to maintain an active lifestyle; why is fitness so important to you? 
"Self-esteem. Fitness has helped me accomplish my objective with confidence. It has also enhanced my alertness, balance, mind and body coordination, which are very important."
---
What is your favourite workout routine?
"I always spend 20 minutes on the bike and the rest of my exercises are done on the cable machine."
---
What is your favourite post-workout snack?
"Fresh fruit and yogurt."
---
What is your favourite food or indulgence?
"Noodle dishes."
---
What is your favorite memory of the CGC?
"When I learned to swim at the CGC and getting introduced to the game of Pickleball."
---
What is your favourite quote?
"We are what we repeatedly do, excellence, then, is not an act but a habit."
---
What is your current workout goal or accomplishment since starting at the CGC?
"I want to stay in shape and be active for as long as I can."
---
Thank you Jack for sharing your smile and inspirational story with us!