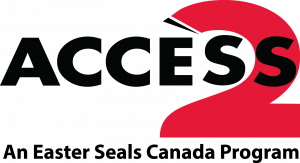 Access 2 Card Program
We're proud to be a participating venue in the Easter Seals Canada Access 2 Card program, a national program that helps ensure entertainment, cultural and recreational opportunities are more available and accessible to all. 
About the Program:
The Easter Seals Canada's award winning Access 2 Card program was launched in 2004 and has grown to reach over 75,000 Canadians who are living with disabilities. The program includes over 500 participating partner venues across the country.
What is the Access 2 Card?
The Access 2 Card is for people of all ages and types of permanent disabilities who require assistance to enjoy recreational opportunities, including those available at the Canada Games Centre. The individual with the disability pays the day pass or membership rates and the support person receives complimentary admission.
Who is a support person?
A support person is an individual who accompanies a person with a disability to provide services that are not provided by CGC employees, such as assisting the person with eating, administering medication, communication and use of the facilities.
Who can apply?
Persons with a permanent disability who require a support person when using the facility are eligible to apply for the card (an authorized healthcare provider certifies the need for an attendant during the application process). There are no age restrictions.
Questions?
Reach out to our Membership team at membership@canadagamescentre.ca if you have any questions about using the Access 2 card while visiting the CGC.