Team Training
Athleticism is the foundation of all sports specific training. We offer sports specific training for emerging, college, elite, and recreational level athletes. A sports performance assessment is just the beginning of your sports performance experience.
Dryland Team Training Sessions
All dryland team training session for emerging and elite athletes are tailored to meet the energetics and movement demands specific to their sport. The session includes a sport specific fitness assessment.
1 Dryland Training Session: $110*
(minimum of 5 athletes, maximum 20 athletes)
*Taxes not included in pricing
Team Training Package
Train the whole athlete:
8 Dryland Training Sessions (60 minutes each)
Work with one of our qualified Exercise Specialists to have your team perform better together and individually.
2 Nutrition Sessions (60 minutes each)
Meet with our Professional Dietician (candidate) and discuss pre/post-game nutrition and fueling your body.
1 Yoga Practice (60 minutes)
One of our certified yoga instructors will lead your team in a calming yoga practice.
1 Mindfulness and Meditation Session (60 minutes)
Join our Fitness & Wellness Coordinator and learn ways to focus your mind, lessen stress and take your mental game to the next level.
Package Rate: $1,200*
(minimum 5 athletes, maximum 20 athletes)
*Taxes not included in pricing.
To book your Dryland Team Training or Team Training Package, contact Amber Allan, Fitness & Wellness Coordinator at 902.490.2249
or allana@canadagamescentre.ca.
---
Shane Mailman, Strength and Conditioning Coach at CGC since October 2021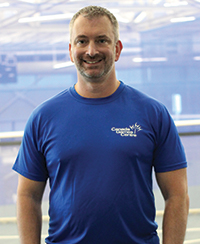 Hometown: Halifax, NS
Education: Personal Training Specialist, canfitpro
Children's Fitness Coach Certified, canfitpro
Flash Reflex (FRX) Training, Blazepod
Favourite Post-Workout Snack: Chocolate—any kind
Fitness Super Power: As a trainer—the ability to see the future and pass it on to others. If you could see your results at the start, I'm sure everyone would be a lot more motivated!

Shane's Fitness Bucket List: Wide grip pull ups—I envy people who look so cool doing them when I can only do one. My goal is to be able to do 10!