Introducing the Winter 2024 Program Guide
Online member registration opens November 21st, 2023
October 27, 2023
---
Embrace the coming year with a commitment to your well-being through an array of CGC programs designed to keep you moving all winter long! The Guide covers a diverse selection of recreational, fitness, wellness, and aquatic activities tailored for every age and fitness level. With registration opening at the end of November, we invite you to explore the Winter 2024 Program Guide.
Take a look and start planning your new year with us!
Recreation
Introduction and Development Badminton programs for youth teach the rules, grips, techniques of the sport and provide a chance to reinforce skills while playing the game
Learn the basics or take your game to the next level during Pickleball Fundamentals or Skills & Drills in the Field House (for ages 18+)
Youth, Family, Adult and Para-Karate programs teach basic karate movements, skill development and are a great and fun way to stay active
Fitness and Wellness (Ages 16+)
ADULT SPECIALIZED PROGRAMS
Challenge your workout routine in one or more of Dylan's programs on Mondays, Tuesdays and Thursdays—Iron Circuit, Toughen Up or Toughen Up 101
Let one of CGC's female Exercise Specialists teach you the strength exercises in Strength Training for Women that will set you up for success and boost your confidence during workouts
WELLNESS PROGRAMS
The new Movement Mechanic program with Logan will help improve your movement quality with mobilization and stretching techniques
Join Lesley in Somatic Activated Healing Movement to learn breathwork, mantra, meditation and movement and integrate healing into your daily life
Warm up and move through a combination of yoga postures using weights and strength building motions in Strengthen & Flow
Learn the basics and improve your overall foundation, physical fitness, and mindfulness in Introduction to Yoga
Prefer to take things slow? Yin Yoga offers a slow paced, soothing, and meditative style aimed to improve flexibility and joint mobility, and increases blood and lymphatic circulations
FITNESS SERVICES
Aquatics Programs
Learn basic aquatic survival skills and proper swimming technique with Lifesaving Society's Swim for Life programs
Group lessons available for teens and adults
Private Coaching & Training returns this winter! A great option for stroke development, endurance and/or aquatic fitness
Group and Private inclusion swim lessons available
Want to be a lifeguard or know the skills they have? If so, our Leadership Programs are the perfect fit for you. Learn vital first aid, lifeguard and lifesaving skills in our Aquatics Centre—a great path for youth employment!
Winter 2024 Program Guide
Click to view the Winter 2024 Program Guide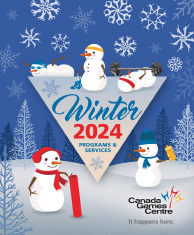 Members:
Online | November, 21st, 2023; beginning at 8:00am
In-person | November 23rd, 2023; beginning at 8:00am
Non-Members:
Online | November 28th, 2023; beginning at 8:00am
In-person | November 30th, 2023; beginning at 8:00am
Don't forget, you'll need a MyRec account to register for all CGC programs!
Together, we inspire healthy active living.