A healthy routine is not only good for you physically, it also helps combat feelings of stress and anxiety. It can give you a sense of normalcy and purpose without really thinking about it. Though everyone's healthy routine may look a little different, there is no shortage of activities out there to make us all feel good.
Our staff team have compiled (and will continue to add) some tips, tricks and recommendations to help you form your healthy habits. Whether it's at-home workouts, meditation exercises, activities to do with your family, or just a way to feel engaged with your CGC community, read on and find what works for you!
A Joyous, Healthy, & Active Holiday
Physical Fitness
Physical Literacy & Other Activities
Mindfulness & Meditation
---
---
A Joyous, Healthy & Active Holiday
This holiday season will look different for all of us. No matter how you celebrate this holiday season, choose activities that give you joy, and spend time, even if it is virtually, with the people you love. Learn new skills, and try new fitness classes! Staying mindful and active throughout the busy season will set you up for a healthy start to the New Year.
Here are some tips and tricks from CGC's Amber Allan, Fitness and Wellness Coordinator, on how to survive (and delight in) the holidays with your health and wellness intact.
Get outside! If this year has taught us anything, it is how important the great outdoors is to our mental and physical well-being. Studies have shown that spending time outside can vastly improve your mental health. Take advantage of crisp, clear afternoons to explore new trails and paths in your neighborhood. Or enjoy walking around the neighbourhood in the evening to see the beautiful holiday light displays.
Stay connected. 2020 has been a year of "Stay the blazes home!", but we need to connect. It's more important than ever to stay connected with friends, family, neighbors and community. Join an online community group, or have a virtual house party! (Make sure to include music and dancing too for that extra active bonus).
Do what you love! When staying active, choose what you love! If you love to dance, put on your favourite playlist and a have a dance party. Exercise is important, but when you truly enjoy the activity, you will do it more often and look forward to it.
Partner Up! Studies have shown that working out with others helps with efficacy and sustainability of active habits. Call a friend and book a fitness class at CGC together. Try something new, get moving and have fun!
Merry Fitness and Healthy Holidays from the Canada Games Centre!
---
---
Physical Fitness
Mitchell's Full-Body Workout
This full-body workout from Mitchell uses a combo of body weight and free weights.
Click to download the workout!
Don't have traditional free weights at home? You can use household items like soup cans instead, or even make your own. Here's a tutorial on making homemade free weights: https://www.wikihow.com/Make-a-Homemade-Weight-Set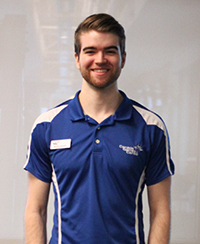 Mitchell Yetman, Exercise Specialist at CGC since February 2020. Self-described fitness superpower: Never-ending motivation. See his profile.
---
World Day of Physical Activity Workout
April 6th, 2020 marks the 18th year of World Day for Physical Activity as designated by the World Health Organization. On this day, everyone everywhere is encouraged to be active for at least 30 minutes. Amber has put together a workout to help you do just that!
Pick the standard workout or the core workout (or combine the two). Complete as many rounds as needed to fill your 30 mins.
30 Minute Workout
50 x cardio exercise (ex. jumping jacks)
40 x lower body exercise (ex. squats)
30 x full body exercise (ex. mountain climbers)
20 x upper body exercise (ex. push-ups)
10 x challenge exercise for you (ex. burpees)
30 Minute Core Workout
50 x Russian twists
40 x bicycles
30 x toe reaches; lying on back, knees bent or legs straight
20 x cross-body mountain climbers
10 x V-sits
Amber's Latest (free) Fitness App Find
"I've recently discovered the Fit On App. This has a huge resource of classes. You can choose everything from Barre, Yoga, HIIT, Pilates, Spin and more! It's free and can be used on a computer or smart phone. This will keep you moving!"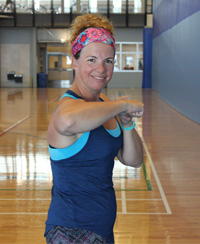 Amber Allan, CGC Fitness & Wellness Coordinator since May 2018. Self-described fitness superpower: To help people discover their own superpower! See her profile.
---
Allison's No-Equipment Quick Workout
Even without access to the gym, you can still take on an activity that will have you sweating once a day! Turn your living room, spare room, den or basement into your home gym with these no-equipment exercises.
Glute Bridge: 10 bridges, hold for 1 second count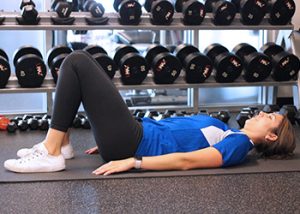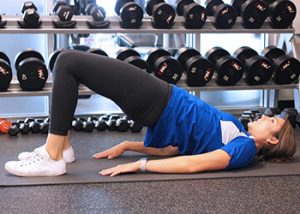 Elevated Mountain Climber to Push-up: (4:1 ratio of mountain climber to push-up) 20/10 Reps each side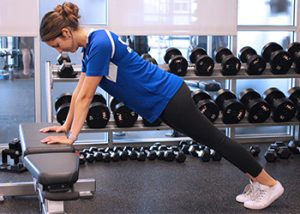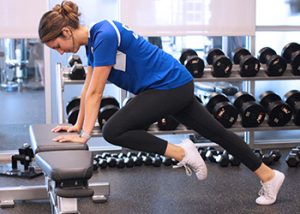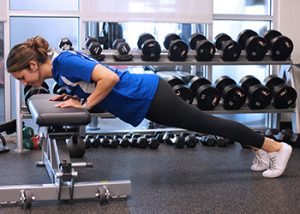 Sumo Squat with Alternating High Knee Tucks: 8 Reps each side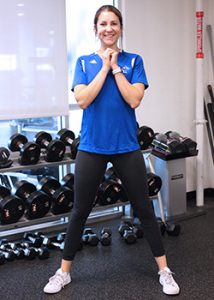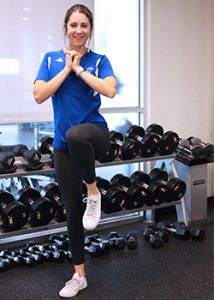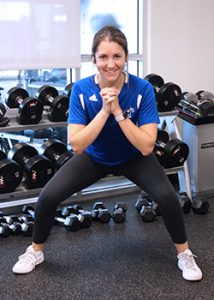 ---
Adele's Advice: Get Your Groove On
"Nothing helps shake off the stress like dancing it out in the kitchen. I play my all my favourite tunes and just let loose. I highly recommend it!"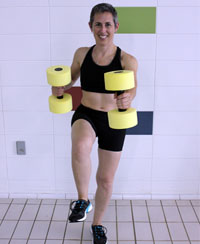 Adèle Poirier teaches Combo Aquafit. Her self-described fitness superpower: The ability to give people the power to be a bit silly and let go of all their worries and responsibilities. Put a smile on their face, even if it's just for an hour! See her profile.
---
Mayu Says Keep Moving
"I try to do something that makes me sweat for at least 30min. I go jogging when it's nice out. I close my eyes and focus on taking a deep breath in through my nose, and out through my mouth a couple of times at the beginning. I smell nature, feel the cold fresh air and know spring is coming and hear bird chirps. It grounds me, and gives me positive and happy energy."
"When I can't or don't feel up to going outside, I dance to the playlist I use to teach my classes at CGC and ISANS. It reminds me how much I enjoy teaching and joining classes. It is also really good practice :)"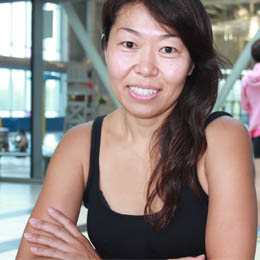 Mayu Creelman teaches Dance Fusion.
---
---
Physical Literacy & Other Activities
When we learn to read, we start with learning our letters before words. Physical literacy starts with learning fundamental movements like jumping, running, throwing, catching and swimming. They are the building blocks towards confident and motivated participation in activity and sports, regardless of age. Below are some great resources to make moving fun for you and your family.
---
Sport For Life
Sport for Life is a movement to improve the quality of sport and physical activity in Canada, and aim to create a future in which absolutely everyone has access to quality sport and physical literacy experiences.
Sport for Life has developed a series of short videos called Physical Literacy at Home that help support parents and kids to develop physical literacy while at home and make moving fun for you and your family. https://sportforlife.ca/facing-covid-19-together/
---
Active For Life
Active For Life is the place where parents go to learn about activities for kids. Physical education leads to physical literacy, which is critical for child development. Physical literacy also gives active kids the best chance to someday compete in high-performance sport.

The Active For Life website is full of creative and simple ideas for activities you can do using household items. For example, you may be familiar with Sensory Paths – colourful decals placed along floors and walls that indicate an action to be taken. Sensory paths made a big splash in schools across Canada, but with schools on pause, why not get the kids outside and create your own sensory chalkway?
Chalk is an inexpensive toy that can offer hours of creative entertainment! The sky's the limit on what to incorporate into your own chalkways, but here are some ideas from Active for Life on different games like hopscotch and Alphabet Hop that you can create with chalk. Take a little bit from each game to make an epic chalkway with the added bonus of building physical literacy skills! Don't have chalk? Grab sticks, pool noodles or other outdoor items and create a backyard obstacle course.
---
ParticipACTION
Established in 1971, ParticipACTION has been moving Canadians for almost 50 years, but their activities and ideas are anything but outdated.
Follow them on Facebook https://www.facebook.com/ParticipACTION/ or download the ParticipACTION app for free: https://www.participaction.com/en-ca/programs/app
---
Sport NS & CSCA
Our friends at Sport Nova Scotia and Canadian Sport Centre Atlantic have teamed up to connect the sport community through a social media isolation exercise challenge called NS Active!
"Challenge rules:
1. Post videos of your favorite home exercise or physical activity. Tag 3 of your friends to try it.
2. When your friends complete your workout or skill (on film), they can keep the momentum going by choosing a new exercise and tagging three new people.
3. Use the hashtag #NSActive
4. Cheer each other on. We need positivity right now!"
---
Canadian Olympic Club
Although the 2020 Summer Olympic Games in Tokyo have been postponed, it doesn't mean you have to put your Team Canada spirit on hold too. The Canadian Olympic Club, presented by Bell, is free to join and full of all kinds of fun challenges, information, stats, and athlete profiles.
It also gives you access to the Canadian Olympic School Program which offers over 100 free resources and activity ideas for teachers (or homeschooling parents), that promote inclusive sport environments, application of the Olympic values, and encourage healthy active living.
https://vimeopro.com/sportforlife/physical-literacy-at-home
---
How Fast Can You Puzzle?
Flex those mental muscles with a CGC inspired jigsaw puzzle below. You can change the number of pieces and challenge your friends and family by sharing the links.
CGCHalifax Puzzle #1
CGCHalifax Puzzle #2

CGCHalifax Puzzle #3
CGCHalifax Puzzle #4
CGCHalifax Puzzle #5

CGCHalifax Puzzle #6

CGCHalifax Puzzle #7
CGCHalifax Puzzle #8
---
Community Health Teams
The Community Health Teams (CHT) are a great resource for health and wellness in Nova Scotia. They're currently offering free online Zoom programs on everything from being a parent during COVID-19 to making the most of your food dollar, and how to get a better night's sleep. Community Health Teams programs are available to all Nova Scotians who have a valid NS health card number. Click here to learn more: http://www.nshealth.ca/service-details/Community Health Teams
---
Halifax Public Libraries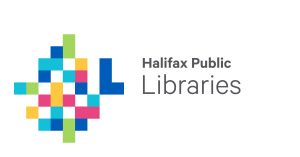 Halifax Public Libraries is providing access to great digital resources. Watch free movies, trace your ancestry, access learning tools, attend a virtual event and search a huge selection of e-books from all your favourite genres. They have also created virtual libraries for kids, teens and adults for at-home activities and ideas. If you're a resident of Nova Scotia, you can apply to get a Halifax Public Libraries card for free. Follow the link to their website for everything on offer: https://www.halifaxpubliclibraries.ca/
---
---
Mindfulness & Meditation
Mindfulness and Meditation are principles and practices that help us work with challenging situations and emotions, and mobilize our inner resources for self-awareness, insight, growth, and healing.
---
Loving-Kindness Meditation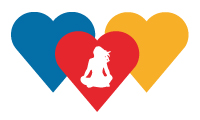 Loving-Kindness practice is a meditation that involves directing love toward yourself, other people and all living beings. It boosts self-compassion and positive emotions, and doesn't require any equipment. It can also be a part of the beginning or end of your favourite yoga practice.
May you be peaceful and at ease: https://www.viacharacter.org/resources/social-downloads/loving-kindness-meditation
---
No Right Way to Meditate, but Insight Timer Can Help
"During this time at home I have been continuing my meditation practice. I really love to use Insight Timer https://insighttimer.com. It is a free app for your phone that has guided meditations, a sleep category, even a kids category! My favourite part of this app is the timer. I can really sink into my meditation, knowing that the bell will chime when my time is up. You can even set up two timers, so if you want to know when you are halfway done or flip to the other side if you are in a restorative yoga pose. Please remember the there is no "right" way to meditate, keep practicing and you will create space in your thoughts :)"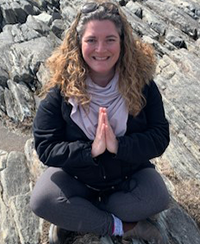 Raechelle Masuda teaches Yoga, Aqua Yoga, and Youth Yoga drop-in classes. Her self-described superpower is Compassion. See her profile.
---
Help Change Your Perspective
"Practicing gratitude is something I do with my family. Every night around the dinner table (since we are all home right now, we have family meals every night), we go around the table and say 3 good things from the day. It helps us keep a positive perspective on things and keeps us connected."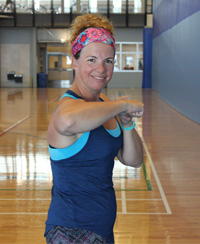 Amber Allan, CGC Fitness & Wellness Coordinator since May 2018. She also leads some of drop-in fitness classes and Mindfulness & Meditation programming. See her profile.
---
---