Monthly Tip from Our Exercise Specialists
We have a great personal training team of Exercise Specialists at the CGC. Collectively, they have a wealth of knowledge to help you stay healthy. Check back here every month for fun fitness tips, tricks, activities, and nutrition advice from our team.
---
Amber's Motivation Tip
Everyone seems to have the same plan in mind – new year, new (or improved) fitness goals; we see it at the CGC, that increase in people passing through the gates. It's also not uncommon to see that initial enthusiasm start to wear off come February. CGC's Fitness and Wellness Coordinator, Amber Allan knows creating healthy habits can be challenging. This can be attributed to a few variables, the most common reasons being not seeing results or feeling overwhelmed and not knowing where to start. Luckily, Amber has some tips on how to push past the urge to give up:
Change on thing at a time. Try not to give up coffee, sugar, alcohol, and run a 5k every day all at once. Pick one thing that is doable and go for it! Make your goals SMART (Specific, Measurable, Attainable, Realistic/Relevant and Time Bound).
Find a gym buddy or walking partner. Not only can a friend hold you accountable, it makes it more fun!
Hire a Personal Trainer. Studies have proven that a PT gives you a much greater chance of success in sticking with your new healthy lifestyle, will lower the chance of injury and you have your very own cheerleader! We have a great team of certified Exercise Specialist at the CGC, ready to help you reach your goals.
Amber also stresses not to beat yourself up for missing a day (in her words, "one hot day doesn't make a summer"). When being active, she adds, do what you love!
---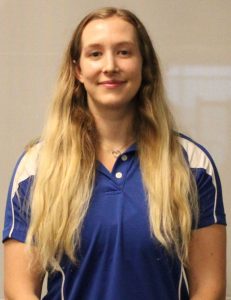 As 2019 figuratively slides to an end, and into the start of cold and icy conditions, we want to keep you from literally slipping through the winter weather. According to the latest stats from the Canadian Institute for Health Information (CIHI), the number and severity of slips and falls increases in winter, making it the number one cause of sport or winter injuries in Canada. So, to keep you on your feet and injury-free, CGC Exercise Specialist Amanda Parker gives her top 3 exercises for preventing falls this winter.
Read more about Amanda in her profile
3 Exercises to Improve your Balance and Stability to Prevent Falls:
1) Single Leg Balance:
To start, stand with feet shoulder width apart with a slight bend at the knee
Arms will be out to your sides, and parallel to the ground for balance
Next, lift one leg off of the floor (hovering leg slightly off the ground in front or behind the body) and shifting your body weight onto the planted leg
On the planted leg, ensure knee is maintaining position directly in line with the toe, and NOT caving in
Practice balancing in the position for 10-20 seconds 3 to 4 times per day.
If you need assistance when balancing, you can perform the movement next to a wall for support but the goal is to do this without support
2) Step Up
To start, you'll need a stair step or riser to perform the movement
Feet will be shoulder width apart with hips, knees, and toes all in line
Standing nice and tall with good posture
Next, step up onto the stair step or riser by pushing with the front leg (with knees and toes in line, and knees NOT caving in) and bringing the other leg up to meet it.
Step down with control
Repeat process with other leg
Practice stepping up, in a slow and controlled manner, 8 times with each leg for 3 to 4 times per day
3) Chair Squats
To start, you'll need a chair or bench to perform the movement
Feet will be shoulder width apart with hips, knees, and toes in line and standing nice and tall with the upper body
Next, squat back and down onto the chair in a slow and controlled manner, ensuring knees are staying in line with the toes (NOT caving in), and with upper body staying fairly upright with chests in a proud position
Once seated, shift weight back into the legs and push the ground away (maintain knees in line with toes) to stand once again
Repeat the process of standing-to-sitting-to-standing, 6 to 8 times, 3 to 4 times per day.
For Amanda's top tips on safe walking practices for slippery conditions, follow this link.
---
Ryan's Pumpkin Smoothie Recipe
"High in fibre, protein, calcium, and vitamin A, this smoothie will definitely satisfy your post-gym pumpkin spice craving."
1/2 cup canned 100% pumpkin, pureed
1 cup milk or milk alternative
1 scoop protein powder of choice (optional)
1/2 cup vanilla yogurt of choice
1 tsp. flax seed, whole or ground
1/8 tsp. cinnamon
Pinch of allspice
Pinch of nutmeg
1 banana
Honey to taste
Add ingredients to blender and blend until smooth. Add more milk if too thick.
Read more about Ryan in his profile.
---
Allison's Activity Tip:
"Travelling this summer? Don't have consistent access to the gym? Or maybe you just don't have enough time in your busy summer schedule? No problem! While you're away from the gym this summer, focus on no-equipment exercise routines! Take on an activity that will have you sweating at least once a day. Whether that involves going for a long swim in the lake at the cottage, doing body weight exercises on your hotel room floor, or going for a jog around your campground – there's always room for exercise!"
Read more about Allison in her profile.
Give these no-equipment exercises a try for a quick workout!
Glute Bridge: 10 bridges, hold for 1 second count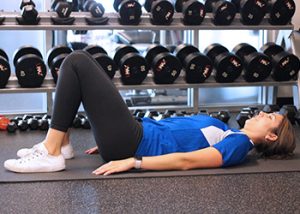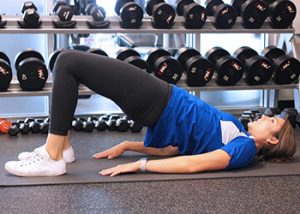 Elevated Mountain Climber to Push-up: (4:1 ratio of mountain climber to push-up) 20/10 Reps each side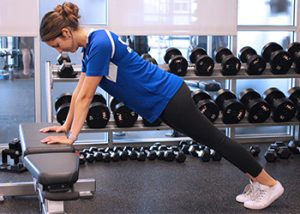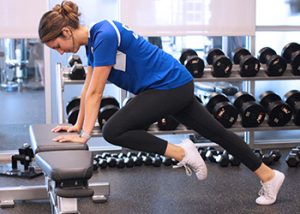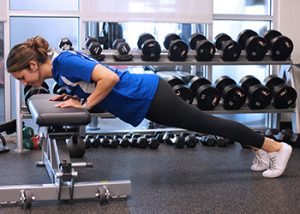 Sumo Squat with Alternating High Knee Tucks: 8 Reps each side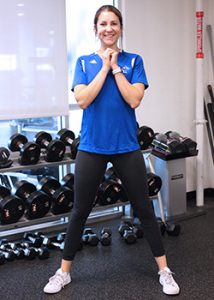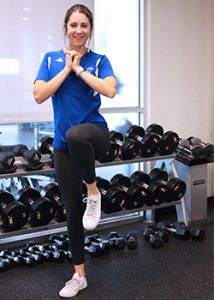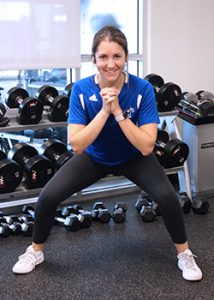 ---
This month, as we head into the heat of the summer, Ryan, CGC Exercise Specialist and Professional Dietitian (candidate) has good advice for keeping healthy and active through to the fall.
Ryan's Nutrition Tip:
"Worried about staying hydrated this summer? Don't sweat it! As you get active this summer, remember to keep your water bottle with you, as you may need more than the usual eight glasses (2 litres). If you find yourself exercising and sweating for more than an hour at a time, your body could use some extra hydration and electrolytes to replace that lost in sweat, especially in the summer heat. But, don't run out and grab a sports drink just yet; to stay hydrated, save your wallet, and the environment, and just add a pinch of salt to your water bottle, drink an extra cup or two, and grab a piece of fruit if you've got a marathon workout ahead of you!"
Read more about Ryan in his profile.
---