A healthy routine is not only good for you physically, it also helps combat feelings of stress and anxiety. It can give you a sense of normalcy and purpose without really thinking about it. Though everyone's healthy routine may look a little different, there is no shortage of activities out there to make us all feel good.
Our Fitness team has compiled some tips, tricks and recommendations to help you form your healthy habits. Whether it's at-home workouts, meditation exercises, activities to do with your family, or just a way to feel engaged with your CGC community, read on and find what works for you!
Physical Fitness
Physical Literacy Activities
Mindfulness & Meditation
---
---
Physical Fitness
Amber's Latest (free) Fitness App Find
"I've recently discovered the Fit On App. This has a huge resource of classes. You can choose everything from Barre, Yoga, HIIT, Pilates, Spin and more! It's free and can be used on a computer or smart phone. This will keep you moving!"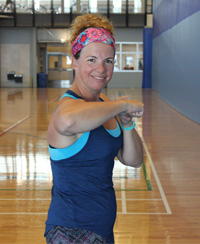 Amber Allan, CGC Fitness & Wellness Coordinator since May 2018. Self-described fitness superpower: To help people discover their own superpower! See her profile.
---
Allison's No-Equipment Quick Workout
Even without access to the gym, you can still take on an activity that will have you sweating once a day! Turn your living room, spare room, den or basement into your home gym with these no-equipment exercises.
Glute Bridge: 10 bridges, hold for 1 second count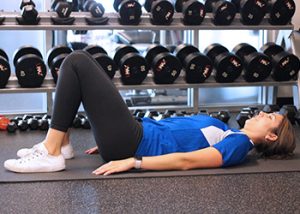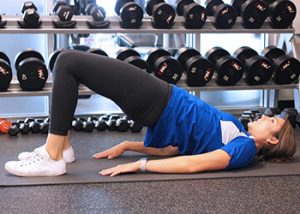 Elevated Mountain Climber to Push-up: (4:1 ratio of mountain climber to push-up) 20/10 Reps each side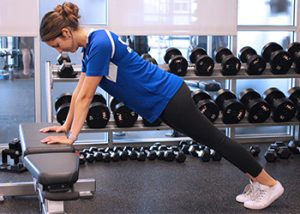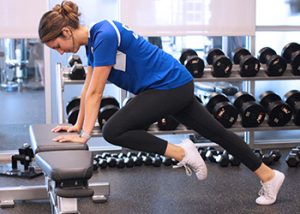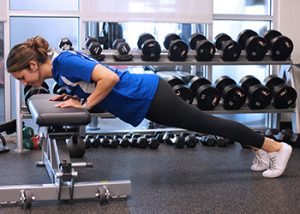 Sumo Squat with Alternating High Knee Tucks: 8 Reps each side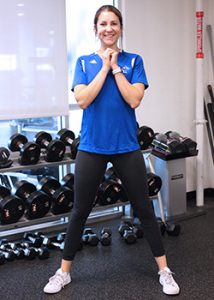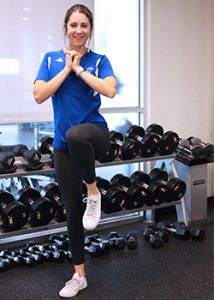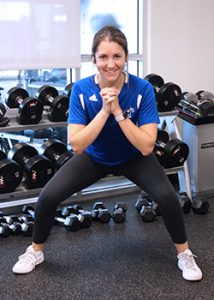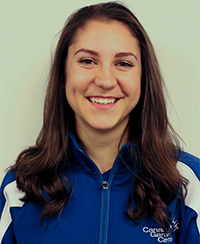 Allison Keller, Exercise Specialist at CGC since April 2019. Self-described fitness superpower: Meal prepping. See her profile.
---
Adele's Advice: Get Your Groove On
"Nothing helps shake off the stress like dancing it out in the kitchen. I play my all my favourite tunes and just let loose. I highly recommend it!"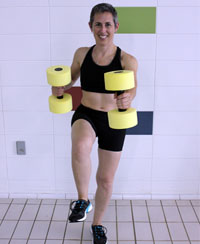 Adèle Poirier teaches Combo Aquafit. Her self-described fitness superpower: The ability to give people the power to be a bit silly and let go of all their worries and responsibilities. Put a smile on their face, even if it's just for an hour! See her profile.
---
Mayu Says Keep Moving
"I try to do something that makes me sweat for at least 30min. I go jogging when it's nice out. I close my eyes and focus on taking a deep breath in through my nose, and out through my mouth a couple of times at the beginning. I smell nature, feel the cold fresh air and know spring is coming and hear bird chirps. It grounds me, and gives me positive and happy energy."
"When I can't or don't feel up to going outside, I dance to the playlist I use to teach my classes at CGC and ISANS. It reminds me how much I enjoy teaching and joining classes. It is also really good practice :)"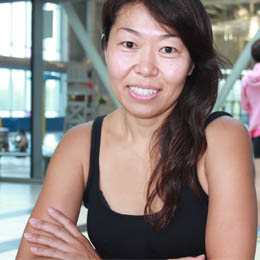 Mayu Creelman teaches Dance Fusion. Profile coming soon!
---
---
Physical Literacy & Other Activities
When we learn to read, we start with learning our letters before words. Physical literacy starts with learning fundamental movements like jumping, running, throwing, catching and swimming. They are the building blocks towards confident and motivated participation in activity and sports, regardless of age. Active For Life and ParticipACTION are great resources to make moving fun for you and your family.
Active For Life
Active For Life is the place where parents go to learn about activities for kids. Physical education leads to physical literacy, which is critical for child development. Physical literacy also gives active kids the best chance to someday compete in high-performance sport. https://activeforlife.com/
We especially like the creative and simple ideas for activities you can do using household items.
---
ParticipACTION
Established in 1971, ParticipACTION has been moving Canadians for almost 50 years, but their activities and ideas are anything but outdated.
Follow them on Facebook https://www.facebook.com/ParticipACTION/ or download the ParticipACTION app for free: https://www.participaction.com/en-ca/programs/app
---
---
Mindfulness & Meditation
Mindfulness and Meditation are principles and practices that help us work with challenging situations and emotions, and mobilize our inner resources for self-awareness, insight, growth, and healing.
No Right Way to Medidate, but Insight Timer Can Help
"During this time at home I have been continuing my meditation practice. I really love to use Insight Timer https://insighttimer.com. It is a free app for your phone that has guided meditations, a sleep category, even a kids category! My favourite part of this app is the timer. I can really sink into my meditation, knowing that the bell will chime when my time is up. You can even set up two timers, so if you want to know when you are halfway done or flip to the other side if you are in a restorative yoga pose. Please remember the there is no "right" way to meditate, keep practicing and you will create space in your thoughts :)"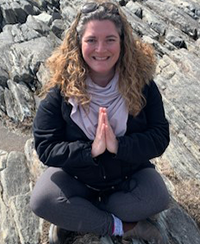 Raechelle Masuda teaches Yoga, Aqua Yoga, and Youth Yoga drop-in classes. Profile coming soon!
---
Help Change Your Perspective
"Practicing gratitude is something I do with my family. Every night around the dinner table (since we are all home right now, we have family meals every night), we go around the table and say 3 good things from the day. It helps us keep a positive perspective on things and keeps us connected."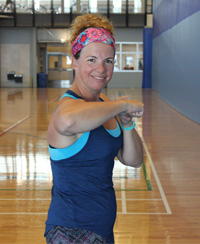 Amber Allan, CGC Fitness & Wellness Coordinator since May 2018. She also leads some of drop-in fitness classes and Mindfulness & Meditation programming. See her profile.
---
---