Monthly Tip from Our Exercise Specialists
We have a great personal training team of Exercise Specialists at the CGC. Collectively, they have a wealth of knowledge to help you stay healthy. Check back here every month for fun fitness tips, tricks, activities, and nutrition advice from our team.
This month, as we head into the heat of the summer, Ryan, CGC Exercise Specialist and Professional Dietitian (candidate) has good advice for keeping healthy and active through to the fall.
Ryan's Nutrition Tip:
"Worried about staying hydrated this summer? Don't sweat it! As you get active this summer, remember to keep your water bottle with you, as you may need more than the usual eight glasses (2 litres). If you find yourself exercising and sweating for more than an hour at a time, your body could use some extra hydration and electrolytes to replace that lost in sweat, especially in the summer heat. But, don't run out and grab a sports drink just yet; to stay hydrated, save your wallet, and the environment, and just add a pinch of salt to your water bottle, drink an extra cup or two, and grab a piece of fruit if you've got a marathon workout ahead of you!"
Read more about Ryan in his profile.
---
Allison's Activity Tip:
"Travelling this summer? Don't have consistent access to the gym? Or maybe you just don't have enough time in your busy summer schedule? No problem! While you're away from the gym this summer, focus on no-equipment exercise routines! Take on an activity that will have you sweating at least once a day. Whether that involves going for a long swim in the lake at the cottage, doing body weight exercises on your hotel room floor, or going for a jog around your campground – there's always room for exercise!"
Read more about Allison in her profile.
Give these no-equipment exercises a try for a quick workout!
Glute Bridge: 10 bridges, hold for 1 second count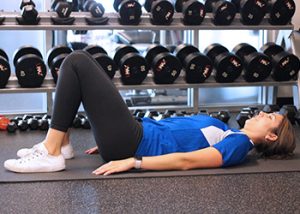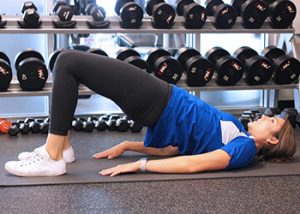 Elevated Mountain Climber to Push-up: (4:1 ratio of mountain climber to push-up) 20/10 Reps each side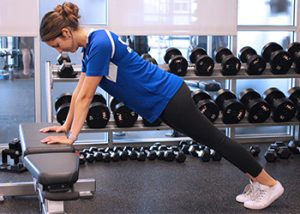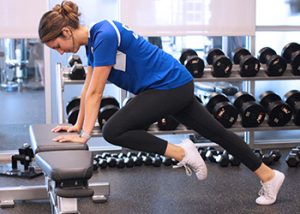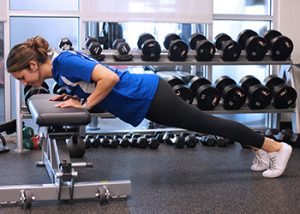 Sumo Squat with Alternating High Knee Tucks: 8 Reps each side