Winter 2021 Program Guide Now Online
Online registration for members begins Nov. 24th
November 12, 2020
---
Our Winter 2021 Program Guide is ready for you.
This guide highlights another exciting line-up of registered programs for all ages and fitness levels to help keep you active! The programs we're running this winter will continue to follow the current advice and protocols set out by Public Health, Return to Sport plans and the Nova Scotia Lifesaving Society. 
Take a minute and see what's heading your way in January:
Recreation
Badminton teaches the fundamentals of sport (age 6-8/9-12) or take your skills to the next level in Badminton Club (for ages 11-16)
Take the Fundamentals to learn Pickleball basics or enjoy round robin play in Skills & Drills
Learn basic karate moves, skill development and move your way through the ranks in our Karate programs
Fitness and Wellness
Get fit from head to toe in an all-levels, interval-based Cardio Kettlebell
Move to the rhythm and get a full-body workout in Drum-Fit
Improve strength, endurance and body composition with 2 weekly workouts in Toughen Up
Weight Lifting for Women (All Levels) has CGC's female trainer teaching basic and intermediate lifting techniques
Relieve stress, lower blood pressure and enjoy a tranquil energy with Ron Salah in Traditional Yang Style Tai Chi — open to all levels
Choose from  a Yoga program that's best suited for you – Introduction to Yoga; NEW Yoga – The Next Step; or Restorative Yoga
Functional Pilates challenges your body, helps build strength and gain stamina with a variety of standing, seated and lying positions
Fitness Services available include Personal Training and Dryland Team Training
Aquatics
Learn basic aquatic survival skills and swimming techniques while having fun in Lifesaving Society's Swim for Life Programs — Parent & Tot, Preschool, School-Aged Swimmers, and Teen lessons
Aquatics Leadership Programs are a great next step after swimming lessons, offer first aid and lifesaving training, and can be a great path for youth employment.
Winter Registration Dates – Updated Nov. 25th, 2020
Please Note: During the 2-week facility closure (as of Nov. 26th, tentatively reopening Dec. 10th), we are moving to online registration only for Winter 2021 Programs. While we are unable to help you in-person, if you require assistance or have any questions about programs and/or registering online, our Customer Service Desk is available by phone at 902.490.2400 ext. 7 from Monday–Friday 8am-4:30pm.
Register for your favourite programs in our New Registration System! Over the next couple months, the Canada Games Centre (CGC) is transitioning to a new software system. This change will align CGC's system with other recreation centres across the Halifax Regional Municipality (HRM) while continuing to provide you with exceptional CGC programs and services. The online experience, MyRec, allows you to search, book/register and manage your recreation activities and programs within one account, no matter which facility you choose. To find out more about this transition, please see the MyRec Frequently Asked Questions (FAQ).
Click to view the Winter 2021 Program Guide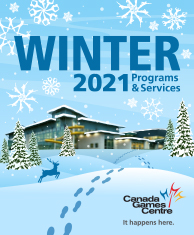 MEMBERS:
Online only: November 24th, beginning at 8:00am
NON-MEMBERS:
Online only: December 1st, beginning at 8:00am

Together, we inspire healthy active living.