Spring 2023 Program Guide Has Arrived!
Online member registration begins February 21st, 2023
February 10, 2023
---
Healthy active living is in full bloom this upcoming season with physical literacy programs for all ages and fitness levels to enjoy! Our Spring 2023 Program Guide offers a wide variety of registered recreation, fitness and wellness, and aquatics programs to start, or keep, you moving through spring. Here are a few highlights:
Recreation
Learn badminton fundamentals or take your badminton skills to the next level in a fun setting
Join us in the Field House for Pickleball, an exciting sport and beginner-friendly program for ages 18+
Karate is available for all ages and skill levels
Para-Karate will introduce basic karate techniques for individuals (ages 8+) who are intellectually impaired; program is unparented/unsupported
Fitness and Wellness (Ages 16+)
Adult Specialized Programs
Move to the rhythm with Amanda in Drum-Fit to get a full-body workout that combines cardio, coordination, and strength training
New! Join Dylan in Toughen Up 101. This foundational program focuses on the basics of functional movements, bodyweight exercises and interval training
Whether you are new to lifting, or have previous instruction, this Weight Lifting for Women program, led by CGC's newest female Exercise Specialist Madison, will set you up for success and boost your confidence during strength workouts
Wellness Programs
New! Acro Yoga is a fun partner activity to try out! Combining acrobatics and yoga, it is a practice that improves strength, flexibility and balance
New! Challenge your muscular endurance with ballet-inspired fitness class with a mix of dance movements and yoga poses in Barre Strength & Stretch
Functional Pilates returns this spring—gain strength and stamina with a variety of moves and postures using props, weights, and your own bodyweight
A soothing and meditative style practice with Raechelle, Yin Yoga moves to 7:15pm Sunday nights
We offer other yoga programs too—from Prenatal Yoga to Intro to Yoga and Restorative Yoga
Fitness Services
Aquatics Programs
Learn basic aquatic survival skills and proper swimming techniques with Lifesaving Society's Swim for Life programs; group lessons also available for teens and adults
Private Coaching & Training is a great option for participants who are not ready for Masters level swimming but want to improve stroke efficiency
Group and private inclusion swim lessons available
See our Leadership Programs Chart for how to become a lifeguard and/or instructor and how to become CGC Aquatics staff. In Leadership Programs, you can learn vital first aid, lifeguarding, athletic integrity, and of course, fun!
New! Introduction to Competitive Swimming Level 2 builds on swim skills taught in Introduction to Competitive Swimming (swimmers must have completed the Intro program to participate in Level 2)
Click to view the Spring 2023 Program Guide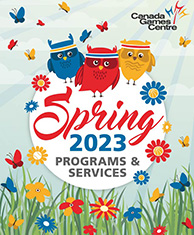 Spring 2023 Registration Dates
Members:
Online | February 21st, 2023; beginning at 8:00 am
In-person | February 23rd, 2023; beginning at 8:00 am
Non-Members:
Online | February 28th, 2023; beginning at 8:00 am
In-person | March 2nd, 2023; beginning at 8:00 am
Don't forget, you'll need a MyRec account to register for all CGC programs!
Together, we inspire healthy active living.