Fall 2023 Program Guide Now Online
Online member registration begins August 8th, 2023
July 28, 2023
---
Fall 2023 is shaping up to be another exciting programming season at the CGC starting in September. We continue to focus on physical literacy and offer a variety of recreation, fitness, wellness, and aquatics programs for all ages and fitness levels. Take a peek at the Fall 2023 Program Guide and get ready to start a new routine and/or challenge yourself in your favourite programs!
Recreation
Introduction and Development Badminton programs teach the rules, grips, techniques of the sport and provide a chance to reinforce skills while playing the game
Learn the basics or take your game to the next level during Pickleball Fundamentals or Skills & Drills in the Field House (for ages 18+)
Youth, Family, Adult and Para-Karate programs teach basic karate movements, skill development and are a great and fun way to stay active
Fitness and Wellness (Ages 16+)
Adult Specialized Programs
Challenge your workout routine in one or more of Dylan's programs on Mondays, Tuesdays and Thursdays—Iron Circuit, Toughen Up or Toughen Up 101
Let one of CGC's female Exercise Specialists teach you the strength exercises in Women Lifting for Women (All Levels) that will set you up for success and boost your confidence during strength workouts
Wellness Programs
Join Lesley in Somatic Activated Healing Movement to learn breathwork, mantra, meditation and movement and integrate healing into your daily life
Warm up and move through a combination of yoga postures using weights and strength building motions in Strengthen & Flow
Acro Yoga is a fun partner activity to try out! Combining acrobatics and yoga, it is a practice that improves strength, flexibility and balance
Functional Pilates—gain strength and stamina with a variety of moves and postures using props, weights, and your own bodyweight
We offer other yoga programs too—Intro to Yoga and Yin Yoga
Fitness Services
Aquatics Programs
Learn basic aquatic survival skills and proper swimming technique with Lifesaving Society's Swim for Life programs
Group lessons available for teens and adults
Private Coaching & Training returns for fall! A great option for stroke development, endurance and/or aquatic fitness
Group and Private inclusion swim lessons available
Want to be a lifeguard or know the skills they have? If so, our Leadership Programs are the perfect fit for you. Learn vital first aid, lifeguard and lifesaving skills in our Aquatics Centre—a great path for youth employment!
The CGC Swim Academy programs focus on technique, athletic integrity, and of course fun in these programs—Introduction to Competitive Swimming; Summer Swim Team Off-Season Training; Lifesaving Sport Team and Masters Swim Team
Click to view the Fall 2023 Program Guide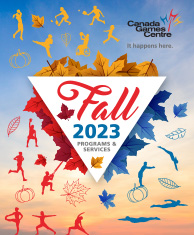 Fall 2023 Registration Dates
Members:
Online | August 8th, 2023; beginning at 8:00 am
In-person | August 10th, 2023; beginning at 8:00 am
Non-Members:
Online | August 15th, 2023; beginning at 8:00 am
In-person | August 17th, 2023; beginning at 8:00 am
Don't forget, you'll need a MyRec account to register for all CGC programs!
Together, we inspire healthy active living.