Fall 2022 Program Guide Has Arrived!
Online member registration begins August 9th, 2022
July 29, 2022
---
We're excited to launch our Fall 2022 Program Guide, with a cool line-up of registered programs! With a continued focus on physical literacy and a variety of recreation, fitness and wellness, and aquatics activities, there is something for all ages and fitness levels to enjoy starting in September.
Take a peek at what's on offer this fall:
Recreation
Take your badminton skills and training to the next level in Badminton – Development for ages 9-12
Have fun, improve or learn new skills in Pickleball Fundamentals or Skills & Drills for ages 18+
Karate is available for all ages and skills, with more youth times available for ages 5-6 and 7-11
New! Para-Karate will introduce basic karate techniques for individuals (ages 8+) who are intellectually impaired; program is unparented/unsupported
Fitness and Wellness (Ages 16+)
Adult Specialized Programs
Jam to the beat of the music with Amanda in Drum-Fit, that transforms drumming into an effective full-body workout
Join Dylan on Monday nights for Iron Circuit—a TRX and kettlebell weight conditioning interval program designed to get you fit fast; or Tuesdays/Thursdays for Toughen Up—to improve strength, endurance and body composition
Whether you are new to lifting, or have previous instruction, this Ladies-Only program led by a CGC female Exercise Specialist will walk you through the basics
New! CGC Challenge Club
For those who are serious about making lasting change in their body, this weekly 90-minute program consists of a workout and classroom coaching sessions on meditation, goal setting, nutrition and more!
Wellness Programs
New! Breathwork for Calming the Nervous System is a 1-hour workshop to learn a series of breath techniques to help you move from a state of anxiousness to a state of calm in mere minutes
New! Strengthen & Flow is a fun yoga program with weights and strength building motions
Tune into your body during pregnancy with our Prenatal Yoga program. Stay flexible, strong, balanced and alleviate many discomforts of pregnancy
Yin Yoga is a slow paced, meditative style of yoga mainly practiced on the floor
We offer other yoga programs too! From Intro to Yoga to Restorative Yoga, there is a yoga program at the CGC just for you
Functional Pilates is your go-to if you're looking to challenge yourself with a variety of standing, seated, and lying postures, using props and weights to help you gain core strength and stamina
Fitness Services
Aquatics Programs
Learn basic aquatic survival skills and proper swimming technique with Lifesaving Society's Swim for Life programs
Group lessons available for teens and adults
Private Coaching & Training is back! A great option for stroke development, endurance and/or aquatic fitness
Group and Private inclusion swim lessons available
Want to be a lifeguard or know the skills they have? If so, our Leadership Programs are the perfect fit for you. Learn vital first aid, lifeguard and lifesaving skills in our Aquatics Centre—a great path for youth employment!
The CGC Swim Academy programs focus on technique, athletic integrity, and of course, fun in these programs—Introduction to Competitive Swimming; Summer Swim Team Off-Season Training; Lifesaving Sport Team and Masters Swim Team
Click to view the Fall 2022 Program Guide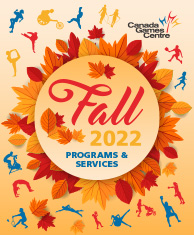 Fall Registration Dates
MEMBERS:
Online: August 9th, beginning at 8:00am
In-person: August 11th, beginning at 8:00am
NON-MEMBERS:
Online: August 16th, beginning at 8:00am
In-person: August 18th, beginning at 8:00am
Don't forget, you'll need a MyRec account to register for all CGC programs!
Together, we inspire healthy active living.