Fall 2020 Program Guide Now Online
Online registration for members begins Sept. 15th
September 9, 2020
---
We're excited to share the programs and swim lessons we can safely run starting in October. Our fall programs will help keep you active with a variety of recreation, fitness and wellness, and aquatics programs as we follow the current advice and protocols set out by Public Health, Return to Sport plans and the Nova Scotia Lifesaving Society.
While the guide itself contains more details on each program and its additional safety protocols, here's an overview of what you can choose from this fall:
Recreation
Learn the fundamentals of Badminton with a focus on movement skills, rules and grips
Have fun, improve or learn new skills in Pickleball Fundamentals or Skills & Drills
Karate is available for all ages and skills, but note some programs will have limited space
Fitness and Wellness
Get fit from head to toe in an all-levels, interval-based Cardio Kettlebell
Jam to the beat of the music with Drum-Fit, that transforms drumming into an effective full-body workout
Improve strength, endurance and body composition with 2 weekly workouts in Toughen Up
Ladies, challenge your muscles and build your strength with Weight Lifting for Women (All Levels)
Take time for yourself and read the road map of your own body in Self-Care and Recovery
Relieve stress, lower blood pressure and enjoy a tranquil energy with Ron Salah in Traditional Yang Style Tai Chi — open to all levels
Wind down and feel grounded in one of our Yoga or Mindfulness and Meditation programs
Improve your technique and your posture in Functional Pilates
Feel the burn in a good way and become stronger in Barre Pilates Fusion
Fitness Services available include Personal Training and Dryland Team Training
Aquatics
Learn basic aquatic survival skills and swimming techniques while having fun in Lifesaving Society's Swim for Life Programs — Parent & Tot, Preschool, School-Aged Swimmers, and Teen lessons
Aquatics Leadership Programs are a great next step after swimming lessons, offer first aid and lifesaving training, and can be a great path for youth employment.
Click to view the Fall 2020 Program Guide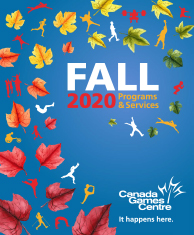 Fall Registration Dates
MEMBERS:
Online: September 15th, beginning at 8:00am
In-person: September 17th, beginning at 8:00am
NON-MEMBERS:
Online: September 22nd, beginning at 8:00am
In-person: September 24th, beginning at 8:00am
Together, we inspire healthy active living.