2023 Summer Camps & Programs Guide is Here!
Online member registration begins March 21st, 2023
March 10, 2023
---
Make 2023 your best summer yet!
Join us for an action-packed lineup of fun Summer Camps, Fitness and Aquatics programs! With more daylight and warmer weather on the way, it's time to plan your active summer at the CGC. We're excited to share the camps and programs that continue to focus on physical literacy and Sport For Life Principles for all ages, interests and fitness levels. What will you choose?
Summer Camps – Age 5 1/2 to 12 years old*
From July 3rd to August 25th, here's a peek at what's in store for the summer:
Animal Kingdom | Start practicing your ferocious roar! In the Animal Kingdom, we'll do wild crafts, tons of adventurous games and have loads of fun
Aspiring Artists | Tap into your creative side for a week full of creating colourful and unique masterpieces
Earth & Space Adventures | Get ready for a week full of cosmic fun and create your own rocket ship!
Spectacular Science | Learn about science, and make your own slime, in this interactive, hands-on camp
Water Blast, Swim Lesson, Youth Leadership, and more…
*Children must have turned 5 by December 31st, 2022 to attend camp
Fitness and Wellness (Ages 16+)
Our registered Adult Fitness and Wellness programs are designed for the participant who wishes to progress over the course of a program. Led by our certified instructors, these programs are smaller in size allowing for more specialized training and attention to help you reach your goals.
Adult Specialized Programs
Get a full-body workout that combines cardio, coordination, and strength training in Drum-Fit
Get into great shape with two programs led by Dylan—Try Iron Circuit or Toughen Up
Toughen Up 101 returns for the summer with a focus on the basics of functional movements, bodyweight exercises and interval training
Whether you are new to lifting, or have previous instruction, the Weight Lifting for Women program, led by CGC female Exercise Specialist Madison, will set you up for success and boost your confidence during strength workouts
Wellness Programs
Our Wellness programs have something for all fitness levels in a welcoming environment. Here's what we're offering this summer—Prenatal Yoga; Introduction to Yoga; Restorative Yoga; Functional Pilates and Yin Yoga.
Fitness Services
Aquatics Programs
Learn basic survival skills and proper swimming technique with Lifesaving Society's Swim for Life programs
See our Leadership Programs Chart for how to become a lifeguard and/or instructor and how to become CGC Aquatics staff. In Leadership Programs, you can learn vital first aid, lifeguarding, athletic integrity, and of course, fun!
The CGC Swim Academy Summer Swim Team is for athletes looking to compete over the summer months in a positive, encouraging and fun environment!
Click to view the full 2023 Summer Camps & Programs Guide
Summer 2023 Registration Dates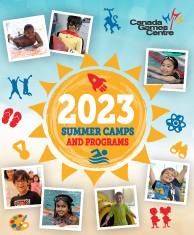 Members:
Online | March 21st, beginning at 8:00am
In-Person | March 23rd, beginning at 8:00am
Non-Members:
Online | March 28th, beginning at 8:00am
In-Person | March 30th, beginning at 8:00am
Don't forget, you'll need a MyRec account to register for all CGC programs!
Together, we inspire healthy active living.