2022 Summer Camps & Programs Guide Now Online!
Summer Camps run July 4th to August 26th
March 11, 2022
---
Are you ready for the summer? We are!
Make a splash with us this summer and find programs just for you in our 2022 Summer Camps & Programs Guide. Your favorite summer camps and programs are back, along with some exciting new ones to keep you active. We continue to offer programs for all ages, interests and fitness levels during the summer focused on physical literacy and Sport For Life principles.
Summer Camps – Ages 5 1/2-12 years old*
The fun begins July 4th and run weekly until August 26th. There are 20 unique camps to choose from in all, but here's a little peek at what we've got in store:
Games Galore | A week full of board games, card games, strategy games, game shows, tournaments, and even designing our own board games.
Passport To Fun | Buckle up for this exuberant international week! Make our own passport, play games and create crafts inspired by countries around the world.
Space Adventures | Get ready for week full of cosmic fun! Learn about the galaxy, create space shuttles and try out a telescope.
Spectacular Science | An interactive and hands-on camp, participants will complete experiments such as slime making and exploding bags.
Aspiring Artists, Dance, Holiday Mix Up, Outdoor Explorers, Sports camps, Superhero, Youth Leadership and more…
*Children must have turned 5 by December 31st, 2021 to attend camp
Fitness and Wellness (Ages 16+)
Adult Specialized Programs
Drum-Fit is a great way to move to a groove – using rhythm to get a full-body workout that combines cardio, coordination and more
Improve your strength, mobility and balance, while sculpting muscles and reducing body fat, all within our Iron Circuit program
Looking to challenge yourself? Try Toughen Up, a dynamic training program designed to improve strength, endurance and body composition with 2 weekly workouts over 5-6 weeks
Whether you're a newbie or a veteran at weightlifting, Weight Lifting for Women, led by a female trainer, will have you feeling confident and comfortable while working out
Wellness Programs
Tune in to your body during pregnancy with our Prenatal Yoga program. Stay flexible, strong, balanced and alleviate many discomforts of pregnancy
Restorative Yoga focuses on returning to a comfortable state while reducing stress and anxiety through postures that require almost no effort compared to a typical yoga class
We offer other yoga programs too. From Intro to Yoga to Yoga for Chronic Pain, there is a yoga program at the CGC just for you
Functional Pilates is your go-to if you're looking to challenge yourself with a variety of standing, seated, and lying postures, using props and weights to help you gain core strength and stamina
Fitness Services
Aquatics Programs
Learn basic survival skills and proper swimming technique with Lifesaving Society's Swim for Life programs
Want to be a lifeguard or know the skills they have? If so, our Leadership Programs are the perfect fit for you. Learn vital first aid, lifeguard and lifesaving skills in our Aquatics Centre—a great path for youth employment!
The CGC Swim Academy Summer Swim Team focuses on technique, sportsmanship, and of course, fun!
Click to view the full 2022 Summer Camps & Programs Guide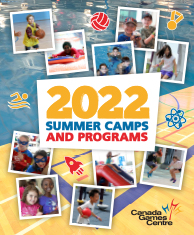 Summer 2022 Registration Dates
Members:
Online | March 22nd, beginning at 8:00 am
In-person | March 24th, beginning at 8:00 am
Non-Members:
Online | March 29th, beginning at 8:00 am
In-person | March 31st, beginning at 8:00 am
Don't forget, you'll need a MyRec account to register for all CGC programs!
Together, we inspire healthy active living.