Spring 2019 Program Guide is Here!
Exciting line-up of recreation, fitness and aquatic programs for everyone.
February 8, 2019
---
Spring is a time of growth and new beginnings — CGC's Spring 2019 Program Guide is live with a variety of registered programs to help you grow your practice, skills and strength. No matter how you like to move, move with confidence, stay healthy and physically active regardless of your age. Our quality programs offer something for all interests and fitness levels while focusing on physical literacy and Sport For Life principles.
Here are just some of the highlights from our programming team…
1-Day Workshops — Free for Annual Members
We are offering more 1-day workshops to try this spring. Alter your perspective with Yoga Inversions and Arm Balances, up your skill set with Learn CPR or learn something new with Try It – Pickleball. With an eclectic mix of options, there are plenty of opportunities to discover a hidden talent or a new passion. Register early so you don't miss out!
Recreation
Exercise your mind and learn concepts and strategies in our new Adult and Senior Chess Program for ages 18+
Youth ages 5-12 who are new to Basketball can learn the fundamentals, work through drills and play games in Basketball Fundamentals before moving on to Basketball Skills and Drills and take their game to the next level
Youth ages 3-5 can let their creativity flourish while developing motor skills and spatial awareness in our Dance Program
…And don't miss out on some of our favourites including Badminton, Karate, Wrestling and Multi-Sport.
Fitness and Wellness
Ladies, ready to take your lifting to the next level? Up the ante in Lifting 301 – Ladies Only, new this Spring
New Introduction to Yin Yoga will take you through a slow-paced style of yoga meant to target the deepest tissues of the body. Passive poses are held for longer periods of time in this quiet, contemplative practice
Take time for yourself and join one of these wellness programs – Self-Care & Stability – Level 2, Mindfulness & Meditation or Tai Chi
New this Spring, we are offering Pre Natal Yoga and Mom & Baby Yoga. Pre Natal Yoga is a great way to connect with other moms-to-be, while staying active during all stages of pregnancy. Mom & Baby Yoga is a great way to ease back into activity while keeping your little one close by.
…And there's even more in the Spring 2019 Program Guide, including Fitness Assessment & Program Design, Personal Training (with one of our Exercise Specialists) and Dryland Team Training.
Aquatics
We're excited to offer new registration options for both Aquatics Inclusion Lessons and Private Coaching & Training
Aquatic Leadership programs are a great next step after swimming lessons, offer first aid and lifesaving training, and can be a great path for youth employment
First Aid Training is available for small or large groups, including Emergency First Aid, CPR & AED Responder
The CGC Swim Academy still has a few spaces available on the Year Round Swim Team in the Freshman level, as well as within the Water Polo Team and Bronze group in the Summer Swim Team Off-Season Training. If you have any questions, please reach out to CGCSA Head Coach Lauren at swimacademy@canadagamescentre.ca
When it comes to Physical Literacy and Sport for Life (S4L) programming, we're proud to continue to be leaders in Atlantic Canada! Our variety of programs and sports activities help develop the lifelong skills and confidence for our community to enjoy.
Click to view the SPRING 2019 Program Guide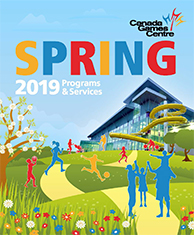 SPRING REGISTRATION DATES

MEMBERS
Online | February 19th, beginning at 8:00am
In-person | February 21st, beginning at 8:00am
NON-MEMBERS
Online | February 26th, beginning at 8:00am
In-person | March 5th, beginning at 8:00am
It happens here!