Lifting His Way to the Top
CGC's Patrick MacInnis, National Powerlifting Qualifier
February 26, 2016
---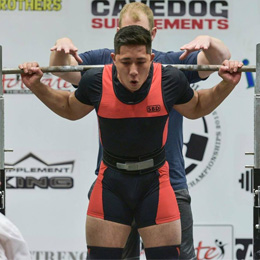 We're pretty proud of Patrick MacInnis, CGC's longtime Fitness Centre staff member and our newest Exercise Specialist! Patrick is an accomplished powerlifter and recently competed at the Mike Laroche Memorial Open, where he won overall in the 93kg class and qualified for the 2017 National Competition. These results are the latest addition to his already impressive career as Nova Scotia Bench Press Record Holder in the Men's Jr. 93kg Class and Gold Medalist in the 2015 Eastern Canadian Championship.
Maritime Athletic Profiles sat down with Patrick after the Open to discuss his path to powerlifting success. Patrick gave advice to newcomers to the sport who may be seeking some guidance on how to get started. "Set high goals, but smaller ones along the way" was one piece of advice Patrick offers, and "if you need help, seek it". Patrick too was once new to powerlifting and found that guidance from more experienced lifters and coaches has definitely helped him improve. When Patrick first started lifting in high school he weighed 126lbs, and now he can lift over 4 times that. Patrick continues to excel and currently has two new unofficial records: the Nova Scotia squat record of 522.5lbs, and the Nova Scotia overall record of 1420lbs, both for the 93kg class. Watch Patrick's full video interview!
Starting on April 24th, Patrick will lead a new Fitness program at the CGC called "Intro to Olympic Lifting", where those interested in the sport of powerlifting or want to add it into their workout routine can learn the proper techniques from one of the best. To register for this program or learn more about the program, see our Spring 2016 Program Guide.