Winter 2021 Programs | Delayed Start & Ongoing Registration
Programming to start later in January
December 17, 2020
---
As we head into a new year, the health and safety of our members, users and staff continue to be our top priority. With that in mind, we are pushing back the start of our Winter 2021 programming season. It will now start later in January.*
Swim lessons begin on Saturday, January 23rd
Recreation and Fitness programs begin the week of January 25th
*Swim Academy (including Masters Swim Team) will resume as planned on Monday, January 4th, 2021 and continue to follow the return to sport plan set out by Swim Nova Scotia.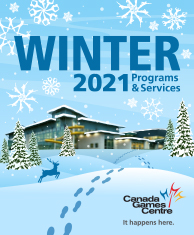 Our program guide has been updated to include the new start and end dates for each program. Anyone currently registered in Winter programs will received an email confirming the new start date of their program. Online registration continues and in-person registration will resume on Monday, December 21st.
Click to view the updated Winter 2021 Program Guide
Here's an overview of what you can enjoy this winter:
Recreation; Fitness and Wellness and Aquatics Programs
Youth Badminton; Adult Pickleball and Karate for all ages
Try something new or stick with your favourite – Cardio Kettlebell; Drum-Fit; Toughen Up; Weight Lifting for Women (All Levels)
Wellness programs include Traditional Yang Style Tai Chi; Introduction to Yoga; Yoga – The Next Step; Restorative Yoga and Functional Pilates
Lifesaving Society's Swim for Life Programs – Parent & Tot, Preschool, School-Aged Swimmers, and Teen swim lessons and Aquatics Leadership Programs
Questions about how swim lessons will run before you register?
Here are a few protocols we'll continue to implement, in addition to health screening:
Staggered lesson starts and end times to ensure fewer people in the change rooms before and after your lesson(s).
Reducing the number of lessons offered and number of participants per class, to allow for required spacing.
Designated pool space to ensure every lesson has the space they need.
More information available in the Aquatics Parent Handbook.