Winter 2020 Program Guide Has Arrived!
Online registration for members begins Nov. 19th
November 1, 2019
---
The wait is over; the Winter 2020 Program Guide is ready to share, and we could not be more excited! Make next year your year and a healthy one. Choose from your favourite CGC programs and a few new ones that are sure to keep you inspired to move—no matter what Jack Frost has in store for us. Here are a few highlights from our programming team:
1-Day Workshops
Are you interested in a program, but unsure if you'll like it? Our 1-Day workshops are the perfect solution! Almost all our winter Fitness programs have a 1-Day Workshop offered on the same day of the week and time as the full program, so you'll not only know if it's a workout you like, but one that fits your schedule too. We also have workshops for Aquatics and Recreation programs. See page 8 in the Winter 2020 Program Guide for the list of 1-Day Workshops being offered. Workshops are free for annual members and $8 (plus tax) for non-members. Spaces are limited so be sure to register early.
Recreation
Whether a beginner or a pro, all ages can improve their Chess game by learning advanced tactics and strategies from local experts
Enjoy the engaging sport of Pickleball with sessions that will help take your skills to the next level
Youth ages 5-10 years can learn the fundamentals of basketball and have fun while working through drills and games in our basketball programs
Develop physical literacy skills like agility, balance and coordination in our Play School programs Primary Prep, Tiny Tumblers and Play School Swim Lessons
…And so much more, including Badminton, Wrestling, Taekwon-Do and Karate.
Fitness and Wellness
Are you looking to work out but don't know where to start? Book a FREE consultation today with an Exercise Specialist to talk about your fitness goals and build a routine that is customized just for you
Melt away your stress with Intro to Mindfulness and Meditation where you will develop practices to help work through challenging situations and emotions in a relaxed group atmosphere
Tai Chi will improve core strength while relieving stress at the same time – programs are offered at multiple levels
New this Winter:

Reconnect with how your body was designed to move and explore various methods of functional movement in Primal Movement
Bellyfit® – Ladies Only, is an incredibly effective full-body workout of shaking and shimmying that includes cardio, toning, stretching and meditation
Sign up for one of our nutrition programs led by Exercise Specialist and Professional Dietitian (candidate) Ryan Lane. He'll take the guess work out of eating right
Aquatics
Lifesaving Society's Swim for Life Programs teach water skills to all levels and ages—Parent & Tot, Preschool, School-Aged Swimmers, and Teen & Adult lessons
Group Inclusion Swim Lessons provide an additional instructor and adaptive activities for kids who need the support
Private Coaching & Training sessions are available at all levels for anyone 16+ years of age looking to improve stroke, endurance and aquatic fitness
Dive into 2020 with one of our Diving Programs offered for various skill levels—Little Jumpers and Learn to Dive Levels 1-3
Swim Academy registration is open for Year Round Swim Team and Water Polo
New this Winter:

Become a certified coach for all levels of the Lifesaving Sport Fundamentals program
When it comes to Physical Literacy and Sport for Life (S4L) programming, we're proud to continue to be leaders in Atlantic Canada! CGC's variety of programs and sports activities help our community develop the skills and confidence they need to live a healthy, active lifestyle.
Click to view the Winter 2020 Program Guide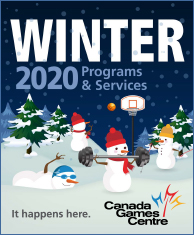 WINTER REGISTRATION DATES
MEMBERS:
Online: November 19th, beginning at 8:00am
In-person: November 21st, beginning at 8:00am
NON-MEMBERS:
Online: November 26th, beginning at 8:00am
In-person: December 3rd, beginning at 8:00am