Winter 2019 Program Guide Now Online
November 2, 2018
---
Kick off your New Year at the CGC with one of our many programs open to everyone from the young to the young at heart. The Winter 2019 Program Guide is ready and if you're looking for active fun — it happens here:
1-Day Workshops — Free for Annual Members
We are offering more 1-day workshops to try this winter. With options ranging from Self-Care to First-Aid to Try It sports, there are plenty of opportunities to discover a hidden talent or a new passion. Register early so you don't miss out!
Recreation
Exercise your mind and learn strategies in our Beginner and Intermediate Chess program for ages 6-12
Youth ages 5-12 will play games and work through drills in our Basketball program
Open to males and females ages 5+ and with previous wrestling experience, the Canada Games Centre Wrestling Club (CGCWC) offers the opportunity to learn fundamental skills and advanced training
Build physical literacy skills like agility, jumping and running in our new Multi-Sport program for ages 5-7
Enjoy the popular game of Pickleball with our new evening session from 6:30pm-7:30pm
…And so much more, including Badminton, Karate, Rhythmic Movement and Dance.
Fitness and Wellness
Are you an avid cyclist? Don't miss out on this 75 minute ride each week as George helps get you ahead of your training schedule
Our series of Adaptive Programs are open to all fitness levels and provides additional physical support and modifications for participants. Choose from one of these Adaptive programs — Strength (new), Yoga or Pilates
Take time for yourself this January and join one of these wellness programs – Self-Care & Recovery, Mindfulness & Meditation or Tai Chi
PROGRAM SWAP: Pound has switched to a Drum-Fit program that will still have you drumming and getting an incredible cardio work-out
Do you like the pool and the relaxation of yoga? Register early for our new Aqua Yoga program. This low impact program, held in the Leisure Pool, is suitable for those with mobility issues and pre or post natal mom's
Stroller Circuit will now offer a restore-your-core circuit on Fridays with a focus on core strength, stability and endurance
…And there's even more in the Guide, including Nutrition Services, Personal Training and Dryland Team Training.
Aquatics
Lifesaving Society's Swim for Life Programs develop strong foundational swimming skills and are fun for the entire family — Parent & Tot, Preschool, School Aged Swimmer levels, Teen & Adult lessons
We're excited to offer an increased level of inclusion outside of group swimming lessons at a time that works around your schedule
Private Coaching & Training available for those interested in stroke improvement, endurance and/or aquatic fitness
Aquatic leadership programs are a great next step after swimming lessons, offer first aid and lifesaving training, and can be a great path for youth employment
First Aid Training is available for small or large groups, including Emergency First Aid, CPR & AED Responder
The CGC Swim Academy competition season is well underway, but we still have a few spaces available on the Freshman Year Round Swim and Water Polo Teams. If you have any questions, please reach out to Lauren at swimacademy@canadagamescentre.ca
When it comes to Physical Literacy and Sport for Life (S4L) programming, we're proud to continue to be leaders in Atlantic Canada! Our variety of programs and sports activities help develop the skills and confidence for our community to enjoy for life.
Click to view the WINTER 2019 Program Guide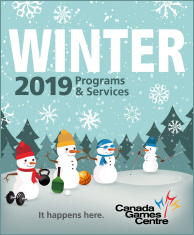 WINTER REGISTRATION DATES
MEMBERS:
Online: November 20th, beginning at 8:00am
In-person: November 22nd, beginning at 8:00am
NON-MEMBERS:
Online: November 27th, beginning at 8:00am
In-person: December 4th, beginning at 8:00am
*SAVE THE DATE | 2018 NEW YEARS EVE FAMILY EXTRAVAGANZA*
The CGC's New Year's Eve Family Extravaganza returns on Monday, December 31st from 2:30-5pm. This annual event provides a fun afternoon of zip lining, obstacle course racing, swimming, face painting, and snacks! Registration will open on November 14th at 8am. Stay tuned to our website for details.