Winter 2018 Program Guide Now Online
Online Registration for members begins November 21st
November 6, 2017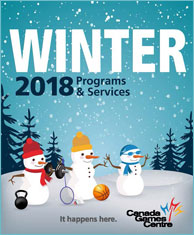 ---
It happens here.
The Winter 2018 Program Guide is ready and we are excited to be a part of your New Year, with new registered programs for all fitness abilities and ages!
Recreation
Our Recreation programs offer something for everyone – from kids to big kids at a heart.
New this Winter – Pickleball programs for all ages and skills, plus we have 2 new Para Sport programs – Para Table Tennis and Para Multi-Sport (registration is currently open and starts this month)
Fitness and Wellness
Focus on health and wellness goals in New Year, New You – a 6-week classroom and physical activity series
Pound transforms drumming into an incredible cardio work-out.
Get to the core of your swing! Join Ready, Set, Golf for a chance to get your body ready for the flexibility, strength, muscle balance, and posture stability the game demands.
Ladies, do you want to learn how to squat, bench press, deadlift, overhead press, and row correctly? Our Intro to Barbell Training – Ladies Only will cover that!
Register for our Pre and Post Natal Programs – Prenatal Fit Camp, Restore Your Core and Stroller Circuit
…And so much more, including new Registered Dietitian Services with the CGC's Exercise Specialist Melissa Quirk.
Aquatics
There's something for everyone in Lifesaving Society's Swim for Life Programs – Parent & Tot, Preschool, School Aged Swimmer levels, Teen & Adult lessons.
Aquatic leadership programs are a great next step after swimming lessons, offer first aid and lifesaving training, and can be a great path for youth employment.
After a successful Fall season, the CGC Swim Academy is in full swing! All of our aquatic sport teams under one umbrella, with lots of opportunity to try them all. Registration is ongoing at this time. If you have any questions, please reach out to Scott at swimacademy@canadagamescentre.ca.
We're proud to be leaders in Atlantic Canada when it comes to Physical Literacy and Sport for Life (S4L) programming. We love being able to offer our community a variety of programs and sports activities that can help develop the skills and confidence to enjoy it all.
Click to view the WINTER 2018 Program Guide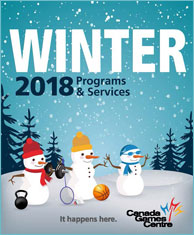 WINTER REGISTRATION DATES
MEMBERS:
Online: November 21st, beginning at 8:00am
In-person: November 23rd, beginning at 8:00am
NON-MEMBERS:
Online: November 28th, beginning at 8:00am
In-person: December 1st, beginning at 8:00am
*SAVE THE DATE | 2017 NEW YEARS EVE FAMILY EXTRAVAGANZA*
The CGC's Annual New Year's Eve Family Extravaganza takes place on Sunday, December 31st from 2:30-5pm. Ring in the New Year together a few hours early with a special event exclusive to families. The kids get tuckered out with games and activities and ready for the baby-sitter! Stay tuned to our website for updates and registration mid-November.