Spring 2021 Program Guide Now Live
Online registration for members begins Feb. 23, 2021
February 12, 2021
---
Our Spring 2021 Program Guide features an array of registered programs for a healthy, active spring! All spring programs continue to follow the current advice and safety measures set out by Public Health, Return to Sport plans and the Nova Scotia Lifesaving Society. 
Here's a snapshot of what we're offering starting in April:
Recreation
Kids and youth ages 6 to 16 can start to learn the rules and movement skills in Badminton or get in more practice time and training during Badminton Club
Learn the game of Pickleball or improve your technique in Skills & Drills
Karate programs provide the opportunity for skill development and active fun for ages 4 and up
Fitness and Wellness (Ages 16+)
Cardio Kettlebell is an all-levels program with aerobic exercises to improve cardiovascular fitness, strength and stamina
Have fun with heart pumping music and get a full-body workout in Drum-Fit
A CGC Exercise Specialist will keep you on track and challenge you with a variety of workouts on Tuesdays & Thursdays in Toughen Up
Weight Lifting for Women, led by a female CGC Exercise Specialist, will help women feel confident while learning basic and intermediate lifting techniques
Tai Chi is open to all levels and will improve core strength while relieving stress at the same time
Choose a Yoga program that's best suited for you: Introduction to Yoga; Yoga—The Next Step; or Restorative Yoga
Functional Pilates challenges your body, helps build strength and gain stamina with a variety of standing, seated and lying positions
Fitness Services are also available and include Personal Training and Dryland Team Training
Aquatics
Learn basic aquatic survival skills and swimming techniques while having fun in Lifesaving Society's Swim for Life Programs — Parent & Tot, Preschool, School-Aged Swimmers, and Teen Lessons. Adult Lessons are also available this Spring.
Aquatics Leadership Programs are a great next step after swimming lessons. They offer first aid and lifesaving training, and can be a great path for youth employment.
Click to view the full Spring 2021 Program Guide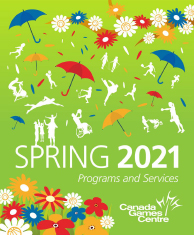 Spring 2021 Registration Dates
Members:
Online | February 23rd, beginning at 8:00am
In-person | February 25th, beginning at 8:00am
Non-Members:
Online | March 2nd, beginning at 8:00am
In-person | March 9th, beginning at 8:00am
Don't forget, you'll need a MyRec account to register for all CGC programs!
Together, we inspire healthy active living.