Spring 2020 Program Guide Is Ready!
February 7, 2020
---
We are thrilled that our Spring 2020 Program Guide is ready to share! As we start to enjoy more daylight and things begin to thaw, we have a great line-up of programs to help you welcome a healthy spring. Our quality programs offer something for all interests and fitness levels while focusing on physical literacy and Sport For Life principles.
Here are a few highlights from our programming team:
Recreation
Watch as your little ones develop physical literacy skills like agility, balance and coordination in our Play School programs Primary Prep, Tiny Tumblers and Play School Swim Lessons
Youth can give their minds a workout with our Chess programs; we've expanded the popular beginner program to include two times 4:30pm and 5:30pm
Kids ages 5-10 can learn the fundamentals of basketball and have fun while working through drills and games in our basketball programs
Try out the engaging sport of Pickleball with our 1-Day Workshop, or sign up for the Skills & Drills program to take your game to the next level
…And so much more, including Run, Jump, Throw; Badminton; Wrestling; Taekwon-Do and Karate.
Fitness and Wellness
Our Adaptive Strength program is open to all fitness levels and uses the help of a straight-backed chair to facilitate a variety of resistance exercises. Those using wheelchairs, canes, walkers, crutches and other mobility aids are welcome
Tai Chi will improve core strength while relieving stress at the same time—programs are offered at multiple levels
Melt away your stress with Intro to Mindfulness and Meditation where you will develop practices to help work through challenging situations and emotions in a relaxed group atmosphere
Choose from a variety of Pilates programs—Functional, Adaptive, Level 1 or 2, Express or Barre Pilates with daytime and evening options available
Are you a parent/guardian who wants to get into shape without leaving baby behind? Our Certified Postnatal Fitness Instructor will lead you through a variety of workouts—open to all levels of fitness, no experience required. You can select the workouts and dates that work for you
We've added a brand-new Team Training package! Keeping the athlete's mind and body in balance is our goal with this package which includes Dryland Training, Nutrition Sessions, a Yoga Practice, as well as Mindfulness and Meditation
Are you interested in a program, but unsure if you'll like it? Our 1-Day workshops are the perfect solution!
Aquatics
Learn to swim and develop water skills in Lifesaving Society's Swim for Life Programs for all levels and ages—Parent & Tot, Preschool, School-Aged Swimmers, Teen and Adult swim lessons
Group Inclusion Swim Lessons provide an additional instructor and adaptive activities so that everyone can participate
Dive into spring with one of our Diving Programs—Little Jumpers and Learn to Dive Levels 1-3
Our Lifesaving Society National Lifeguard, Standard First Aid & Oxygen course offers three sought-after certifications—all in one course
Swim Academy spots are available for Year Round Swim Team (Freshman and Senior), Water Polo and Summer Swim Team Off-Season Training (Bronze)
We're continuing to offer a variety of First Aid Courses for small and large groups.
When it comes to Physical Literacy and Sport for Life (S4L) programming, we're proud to continue to be leaders in Atlantic Canada! Our variety of programs and sports activities help develop the lifelong skills and confidence for our community to enjoy.
Click to view the Spring 2020 Program Guide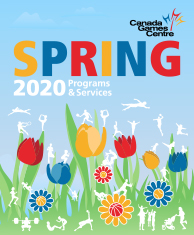 SPRING 2020 REGISTRATION DATES
MEMBERS:
Online: February 18th, beginning at 8:00am
In-person: February 20th, beginning at 8:00am
NON-MEMBERS:
Online: February 25th, beginning at 8:00am
In-person: March 3rd, beginning at 8:00am